Business Plans Kit For Dummies, UK Edition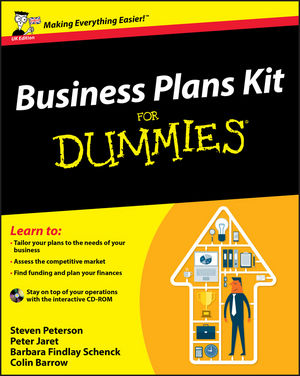 Business Plans Kit For Dummies, UK Edition
ISBN: 978-1-119-99749-8 January 2011 378 Pages
Description
Whether you're a business beginner with big ideas or an established company looking to review you plans in a changing business environment this practical, user friendly guide gives you everything you need to get started. Complete with an interactive CD packed with planning templates including; planning documents, forms, financial worksheets, checklists, operation surveys and customer profiles in both Word and PDF formats you'll be armed with all you need to kick start the planning process and create a winning business plan that suits you and your long-term business vision.
Business Plans Kit For Dummies includes UK specific information on:
UK business practice
Currency
UK business and financial institutions and advisory services
UK taxation and VAT
Partnerships and Limited company information
UK legal practice, contractual considerations and insurance matters
UK specific forms
UK specific case studies
New content covering online business opportunities and resources, alternative ways in to business including franchising, network marketing and buy outs, research methods and choosing suppliers and outsourcing will all be added to the UK edition.
Table of Contents:
Part I: Laying the Foundation for Your Plan
Chapter 1: Starting Your Planning Engine
Chapter 2: Generating a Great Business Idea
Chapter 3: Defining Your Business Purpose
Part II: Developing Your Plan's Components
Chapter 4: Understanding Your Business Environment
Chapter 5: Charting Your Strategic Direction
Chapter 6: Describing Your Business and Its Capabilities
Chapter 7: Crafting Your Marketing Plan
Chapter 8: Deciphering and Presenting
Part III: Tailoring a Business Plan to Fit Your Needs
Chapter 9: Planning for a One-Person Business
Chapter 10: Planning for a Small Business
Chapter 11: Planning for an Established Business
Chapter 12: Planning for a Not for profit Nonprofit Organization
Chapter 13: Planning for an E-Business
Part IV: Making the Most of Your Plan
Chapter 14: Putting Your Plan Together
Chapter 15: Putting Your Plan to Work
Part V: The Part of Tens
Chapter 16: Ten Signs That Your Plan Might Need an Overhaul
Chapter 17: Ten Ways to Evaluate a New Business Idea
Chapter 18: Ten Ways to Fund Your Business Plan
Chapter 19: Ten  Sources of Vital Information to underpin your Business Plan
Chapter 20: Ten Ways to Use Your Business Plan
Note: CD files are available to download when buying the eBook version
Table of contents
Introduction
Laying the Foundation for Your Plan
1 Starting Your Planning Engine
2 Generating a Great Business Idea
3 Defining Your Business Purpose
Developing Your Plan's Components
4 Understanding Your Business Environment
5 Charting Your Strategic Direction
6 Describing Your Business and its Capabilities
7 Crafting Your Martketing Plan
8 Deciphering and Presenting Your Financial Situation
Tailoring a Business Plan to Fit Your Needs
9 Planning for a One-Person Business
10 Planning for a Small Business
11 Planning for an Established Business
12 Planning for a Not-for-Profit Organisation
13 Planning for an E-Business
Making the Most of Your Plan
14 Putting Your Plan Together
15 Putting Your Plan to Work
The Part of Tens
16 Ten Signs that Your Plan Might Need an Overhaul
17 Ten Ways to Evaluate a New Business Idea
18 Ten Ways to Fund Your Business Plan
19 Ten Sources of Vital Information to Underpin Your Business Plan
20 Ten Ways to Use Your Business Plan
About the CD