Business Reading Sampler, Volume 1: Book Excerpts by Grant Butler, David Keane, Valerie Khoo and Rowdy McLean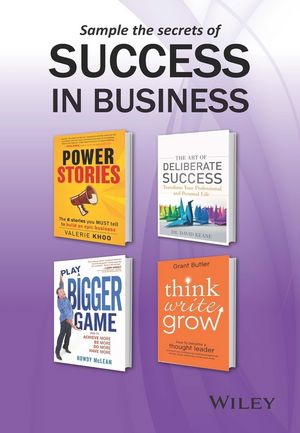 Business Reading Sampler, Volume 1: Book Excerpts by Grant Butler, David Keane, Valerie Khoo and Rowdy McLean
ISBN: 978-1-118-55130-1
Jun 2013, Wrightbooks
288 pages
Description
Whether you want to boost your business or build your profile, our experts can show you how. We've gathered together excerpts from four of our leading business books to help you to be more successful and get ahead in your career, and more!
Sample Chapter 1, from Think, Write, Grow: How to Become a Thought Leader and Build Your Business By Creating Exceptional Articles, Blogs, Speeches, Books and More. Communications expert Grant Butler shows you how to leap from expert to thought leader with proven techniques for writing high-impact materials from speeches and reports to blogs and video scripts.
Sample Chapter 2, from Power Stories: The 8 Stories You Must Tell to Build an Epic Business. Valerie Khoo, founder of the Australian Writer's Centre, reveals the stories you need to tell to boost your business, build your profile and turn your customers or clients into raving fans.
Sample Chapter 3, from Play a Bigger Game: How to Achieve More, Be More, Do More, Have More. International speaker, author and consultant Rowdy McLean shows you that success is not just about setting goals but kicking them in this practical guide to achieving real results.
Sample Chapter 4, from The Art of Deliberate Success: Transform Your Professional and Personal Life. Leadership expert David Keane gives readers an effective framework and tools based on 10 key aspects of living a successful professional and personal life to help you establish what success really means to you.