Business Reading Sampler, Volume 2: Book Excerpts by Andrew & Gaia Grant, Darren & Alison Hill, Sean Richardson, Creel Price & Graham Winter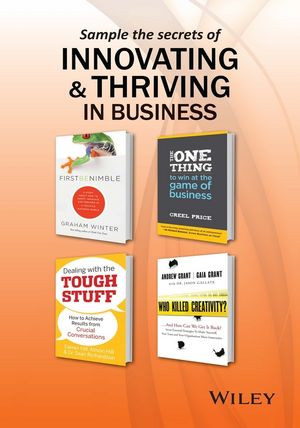 Business Reading Sampler, Volume 2: Book Excerpts by Andrew & Gaia Grant, Darren & Alison Hill, Sean Richardson, Creel Price & Graham Winter
ISBN: 978-1-118-55127-1 June 2013 Wrightbooks 288 Pages
Description
Whether you are seeking solutions for innovating within volatile business environments or strategies to better engage your workforce our experts can show you how. We've gathered together excerpts from 4 of our leading business books to help you, your teams and your organisations move, lean and adapt fast!
Sample Chapter 1, from The One Thing to Win at the Game of Business. Serial entrepreneur Creel Price reveals the game-changing formula that will transform your understanding of business and the role you play in it.
Sample Chapter 2, from First Be Nimble: A Story About How to Adapt, Innovate and Perform in a Volatile Business World. Best-selling author Graham Winter shares a blueprint to create agile and intelligent organisations that can handle anything an unpredictable business world throws at them.
Sample Chapter 3, from Dealing with the Tough Stuff: How to Achieve Results from Crucial Conversations. Behavioural strategists Darren Hill, Alison Hill and Sean Richardson give you the tools to start having more productive workplace conversations with less conflict.
Sample Chapter 4, from Who Killed Creativity?... And How Can We Get It Back? International consultants Andrew Grant and Gaia Grant reveal the culprits who are stifling creativity and innovation within organisations and share the seven essential strategies to make yourself, your team and your organisation more innovative.