Business Solutions for the Global Poor: Creating Social and Economic Value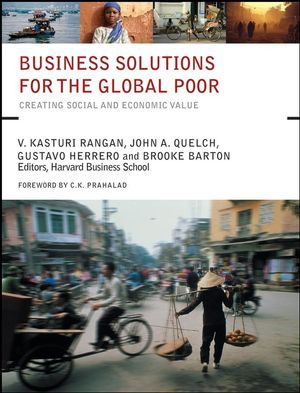 Business Solutions for the Global Poor: Creating Social and Economic Value
ISBN: 978-0-787-98216-4
Jan 2007, Jossey-Bass
456 pages
Description
Based on research presented at The Harvard Business School's first-ever conference on business approaches to poverty alleviation, Business Solutions for the Global Poor brings together perspectives from leading academics and corporate, non-profit and public sector managers. The contributors draw on practical and dynamic how-to insights from leading BOP ventures from more than twenty countries world-wide. This important volume reflects poverty's multi-faceted nature and a broad range of actors—multinational and local businesses, entrepreneurs, civil society organizations and governments—that play a role in its alleviation.
Buy Both and Save 25%!
Original Price:$160.50
Purchased together:$120.38
save $40.12
Cannot be combined with any other offers.
Buy Both and Save 25%!
Original Price:$100.45
Purchased together:$75.34
save $25.11
Cannot be combined with any other offers.
PART 1: Just Who Are the Poor?
1 Microcredit and Poverty Alleviation Strategy for Women: Who Are the Customers?
2 Understanding Consumers and Retailers at the Base of the Pyramid in Latin America
3 Marketing Programs to Reach India's Underserved
PART 2: Meeting the Poor's Basic Needs
4 Brcko and the Arizona Market
5 Health Services for the Poor in Developing Countries: Private vs. Public vs. Private and Public
6 Fighting AIDS, Fighting Poverty: Customer Centric Marketing in the Generic Antiretroviral Business
7 Meeting Unmet Needs at the Base of the Pyramid: Mobile Healthcare for India's Poor
8 Patrimonio Hoy: A Groundbreaking Corporate Program to Alleviate Mexico's Housing Crisis
9 Energizing the Base of the Pyramid: Scaling-up Successful Business Models to Achieve Universal Electrification
10 Utilities and the Poor: A Story from Colombia
11 The Expansion of Public Services into Poor Areas: The Case of Piped Gas in Cuartel V – Moreno
PART 3: Building the BOP Value Chain
12 MULTIAHORRO: Barrio Store
13 Photography and the Low Income Classes in Brazil: A Case Study of Kodak
14 The Complex Business of Serving the Poor: Insights from Unilever's Project Shakti in India
15 Creating strong businesses by developing and leveraging the productive capacity of the poor
16 ITC's e-Choupal: A Platform Strategy for Rural Transformation
17 Nestle's Milk District Model: Economic Development for a Value-Added Food Chain and Improved Nutrition
PART 4: BUSINESS & LEADERSHIP MODELS
18 Building New Business Value Chains with Low Income Sectors in Latin America
19 Developing Viable Business Models to Serve Low-Income Consumers: Lessons from the Philippines
20 When Giants Discover the Disadvantaged: Managerial Challenges and Success Factors in Building Capacity to Serve Underserved Markets
Part 5: ROLE OF GOVT. AND CIVIL SOCIETY
21 The Role of Financial Institutions in Revitalizing Low-Income Neighborhoods
22 Houses for the Poor and New Business for Banks: The Creation of a Market for Affordable Housing
23 The South African Financial Sector Charter: A Supplementary Market Framework to Achieve Affirmative Action
24 How Social Entrepreneurs Enable Human, Social, and Economic Development
25 Hybrid Value Chains: Social Innovations and the Development of the Small Farmer Irrigation Market in Mexico
26 Entrepreneurship and Poverty Alleviation in South Africa
27 A Gentler Capitalism: Black Business Leadership in the New South Africa
PART 6: MEASURING SUCCESS
28 Microfinance: Business, Profitability, and the Creation of Social Value
29 Alleviating Global Poverty through Microfinance: Factors of Financial, Economic, and Social Performance
30 Strong Double Bottom Line Banking
31 H&R Block's Refund Anticipation Loans: Perilous Profits at the Bottom of the Pyramid?
32 When is Doing Business with the Poor Good – for the Poor? A Household and National Income Accounting Approach
International Case studies from World Bank, South African breweries, Cemex (Mexico); Unilever (India); among others.

This book can be used in a variety of courses including: public policy, economics, political science, international business; international marketing.
An Instructor's Manual is available with this book.