Business Statistics: For Contemporary Decision Making, 9th Edition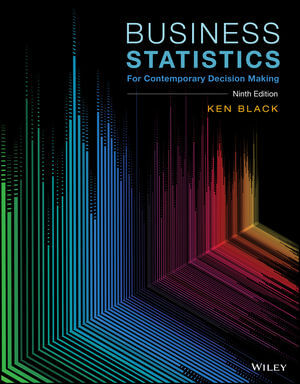 Business Statistics: For Contemporary Decision Making, 9th Edition
ISBN: 978-1-119-32089-0
Sep 2016
848 pages
Description
Business Statistics: For Contemporary Decision Making, 9th Edition continues the tradition of presenting and explaining the wonders of business statistics through the use of clear, complete, student-friendly pedagogy. Ken Black's text equips readers with the quantitative decision-making skills and analysis techniques they need to make smart decisions based on real-world data.
Preface viii
1 Introduction to Statistics 1
2 Charts and Graphs 15
3 Descriptive Statistics 48
4 Probability 89
5 Discrete Distributions 129
6 Continuous Distributions 166
7 Sampling and Sampling Distributions 201
8 Statistical Inference: Estimation for Single Populations 231
9 Statistical Inference: Hypothesis Testing for Single Populations 265
10 Statistical Inferences About Two Populations 316
11 A nalysis of Variance and Design of Experiments 370
12 Simple Regression Analysis and Correlation 424
13 Multiple Regression Analysis 473
14 Building Multiple Regression Models 501
15 Time-Series Forecasting and Index Numbers 546
16 Analysis of Categorical Data 600
17 Nonparametric Statistics 620
18 Statistical Quality Control 664
19 Decision Analysis 705

Appendix A: Tables

Appendix B: Answers to Selected Odd-Numbered Quantitative Problems
The revised text chapter organization allows for both one and two semester coverage.
Each chapter begins with Decision Dilemmas - real business vignettes that each present a business dilemma, asking a number of managerial or statistical questions, the solutions to which require the use of techniques prersented in the chapter; a Decision Dilemma Solved feature concludes each chapter to answer and discuss each question.
New, exciting business cases to help students apply the techniques and skills presented in the text
Each chapter contains at least one or two Thinking Critically About Statistics in Business Today features that give real-life examples of how the statistics presented in the chapter apply in the business world today.
Nine databases that provide additional opportunities for students to apply the statistics presented in this text.
965 practice problems available in this text
a series of videotape tutorials by the author, Ken Black
WileyPLUS -WileyPLUS online learning environment features all end-of-chapter problems, author video tutorials, databases, applets, student solutions and Excel Manual for students.
Ethical Considerations - A feature in each chapter, Ethical Considerations integrate the topic of ethics with applications of business statistics.
Tree Taxonomy Diagrams - Further illustrate the connection between topics and techniques and the ability to see the big picture of inferential statistics.