Business Studies in Action: Preliminary Course & eBookPLUS, 4th Edition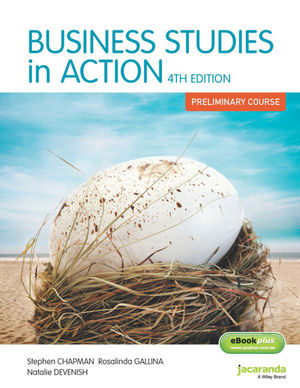 Business Studies in Action: Preliminary Course & eBookPLUS, 4th Edition
ISBN: 978-0-730-30900-0
Dec 2014, Jacaranda
472 pages
Product not available for purchase
Description
Business Studies in Action Preliminary Course 4E engages students and enhances understanding of business concepts.

KEY FEATURES
• Clear explanations of complex business concepts aided by graphic organisers.
• Topical case studies reflect business in action in the real world.
• Rigorous adherence to the content of Business Studies Stage 6 syllabus.
• Greater emphasis on syllabus 'learn tos' as well as 'learn abouts'.
• Fully updated with new Snapshots, BizFacts and statistics.
• HSC key process verbs are colour-coded and used in graded questions throughout.
Business Studies in Action Preliminary Course 4E and eBookPLUS is a hard-copy student text accompanied by eBookPLUS.


> eBookPLUS resources include:

•  Access from any digital device: PC/MAC/iPad/Android Tablet.
•  Worksheets - Word documents designed for easy customisation and editing.
•  Interactivities and games to reinforce and enhance student learning.
•  eLessons - engaging video clips and supporting material.
•  Weblinks to relevant support material on the internet.
•  ProjectsPLUS - unique ICT-based projects that provide opportunities for students to demonstrate creativity, thinking skills and teamwork.
To the student vi
About the authors vii
How to use this book viii
About eBookPLUS x
ICT activities xi
Acknowledgements xii

TOPIC 1: NATURE OF BUSINESS 2

Chapter 1 Role of business 4
1.1 Introduction 4
1.2 The nature of a business 6
1.3 Other functions of business 8

Chapter 2 Types of businesses 22
2.1 Introduction 22
2.2 Classification by size 22
2.3 Classification by geographical spread 25
2.4 Classification by industry sector 30
2.5 Classification by legal structure 35
2.6 Types of companies 39
2.7 Factors influencing choice of legal structure 46

Chapter 3 Influences in the business environment 50
3.1 Introduction 50
3.2 Business environment 50
3.3 External influences 51
3.4 Internal influences on business 70
3.5 Stakeholders 80

Chapter 4 Business growth and decline 86
4.1 Introduction 86
4.2 Business life cycle — stages and responding to challenges 90
4.3 Factors that can contribute to business decline 104
4.4 Voluntary and involuntary cessation 105
TOPIc 1 S uggested assessment tasks 111
TOPIC 2: Business mana gement 116

Chapter 5 Nature of management 118
5.1 Introduction 118
5.2 The features of effective management 121
5.3 Skills of management 123

Chapter 6 Achieving business goals 144
6.1 Introduction: What are goals? 144
6.2 Business goals 147
6.3 Achieving a mix of business goals 153
6.4 Staff involvement 156

Chapter 7 Management approaches 164
7.1 Introduction 164
7.2 Classical approach to management 165
7.3 Behavioural approach to management 178
7.4 Contingency approach to management 190
7.5 Comparing management approaches 192

Chapter 8 Management process 194
8.1 Introduction 194
8.2 Different ways of coordinating key business functions and resources 196
8.3 Operations 198
8.4 Marketing 212
8.5 Finance 228
8.6 Human resources 247
8.7 Ethical business behaviour 272

Chapter 9 Management and change 282
9.1 Introduction 282
9.2 What is organisational change? 282
9.3 Responding to internal and external influences 285
9.4 Managing change effectively 290
TOPIc 2 S uggested assessment tasks 306
TOPIC 3: Business plannin g 310

Chapter 10 Small to medium enterprises (SMEs) 312
10.1 Introduction 312
10.2 Definition of SMEs 312
10.3 The role of SMEs 315
10.4 Economic contribution of SMEs 317
10.5 Success and/or failure of SMEs 322

Chapter 11 Influences in establishing a small to medium enterprise 328
11.1 Introduction 328
11.2 Personal qualities 328
11.3 Sources of information 340
11.4 The business idea 343
11.5 Establishment options 347
11.6 Market considerations 354
11.7 Finance 360
11.8 Legal considerations and influence of government on SMEs 365
11.9 Human resources 370
11.10 Taxation 374

Chapter 12 The business planning process 380
12.1 Introduction 380
12.2 Business planning process 385
12.3 Sources of planning ideas 389
12.4 Vision, goals and/or objectives 391
12.5 Organising resources 396
12.6 Forecasting 401
12.7 Monitoring and evaluating 404
12.8 Taking corrective action — modification 410

Chapter 13 Critical issues in business success and failure 414
13.1 Introduction 414
13.2 Importance of a business plan 414
13.3 Management — staffing and teams 416
13.4 Trend analysis 420
13.5 Identifying and sustaining competitive advantage 422
13.6 Avoiding overextension of financing and other resources 426
13.7 Using technology 427
13.8 Economic conditions 430

TOPIC 3 S uggested assessment tasks 434

ICT activities 438
Appendix 441
Glossary 444
Index 452