Business Survey Methods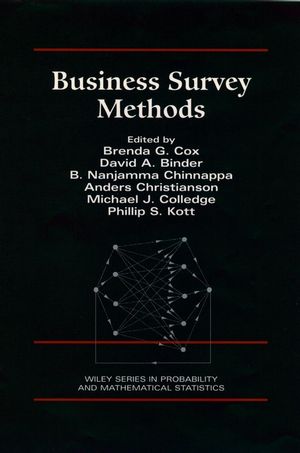 Business Survey Methods
ISBN: 978-1-118-15053-5 September 2011 752 Pages
Description
Consists of invited papers, from internationally recognized researchers, chosen for their quality as well as their overall unity. Describes current methods along with innovative research and presents new technologies for solving problems unique to establishment surveys. Stages of the survey process are addressed in the first five parts with cross-cutting topics in the last section.
Partial table of contents:

FRAMES AND BUSINESS REGISTERS.

Defining and Classifying Statistical Units (S. Nijhowne).

Changes in Populations of Statistical Units (P. Struijs & A.Willeboordse).

SAMPLE DESIGN AND SELECTION.

Coordination of Samples Using Permanent Random Numbers (E.Ohlsson).

Business Surveys as a Network Sample (A. Johnson).

DATA COLLECTION AND RESPONSE QUALITY.

Designing the Data Collection Process (C. Dippo, et al.).

Electronic Data Interchange (C. Ambler, et al.).

DATA PROCESSING.

Matching and Record Linkage (W. Winkler).

Protecting Confidentiality in Business Surveys (L. Cox).

WEIGHTING AND ESTIMATION.

Outliers in Business Surveys (H. Lee).

Combining Design-Based and Model-Based Inference (K. Brewer).

PAST, PRESENT, AND FUTURE DIRECTIONS.

Quality Assurance for Business Surveys (G. Griffiths & S.Linacre).

Business Surveys in Ten Years' Time (J. Ryten).

Index.