Business of Research: Issues of Policy and Practice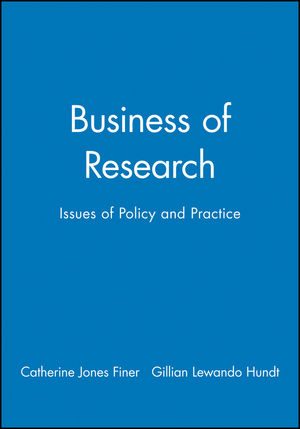 Business of Research: Issues of Policy and Practice
ISBN: 978-0-631-22824-0
Aug 2001, Wiley-Blackwell
160 pages
Description
The politics and practice of social research nowadays amount more to a form of business activity, than to a scholarly pursuit. This collection of specially commissioned papers offers an unrivalled introduction to the realities and pitfalls of undertaking funded research, with reference to a kaleidescopic range of projects and forms of project management.
1. Editorial Introduction: Catherine Jones Finer and Gillian Lewando Hundt.
2. Funding Social Science Research in Academia: Janet Lewis.
3. The Politics of Partnership in Tropical Public Health: Researching Tuberculosis Control in India: Jessica A. Ogden and John D. H. Porter.
4. Recognizing Diversity and Group Processes in International, Collaborative Research Work: A Case Study: Elizabeth Ettorre.
5. Integrating Participation into Research and Consultancy: A Conservation Example From Arabia: Dawn Chatty.
6. Multiple Scripts and Contested Discourse in Disseminating Research Findings: Gillian Lewando Hundt.
7. Researching a Contemporary Archive: Catherine Jones Finer.
8. Researching Homelessness and Rough Sleeping in the Scottish Context: Hilary Third.
9. Researching Risk in the Probation Service: Hazel Kemshall.
10. Synthesizing Research and Practice: Using the Action Research Approach in Health Care Settings: Paul Bate.
11. Balncing Research and Action: Reflections on an Action Research Project in a Social Services Department: Jan Waterson.


Honest and informative about the realities of managing research projects, especially where numbers of people and/or different teams are involved.


Confronts key ethical dilemmas involved in research conduct & reportage.


Exposes some of the contradictions of the British academic establishment's approach to the financing, conduct and evaluation of social research on the part of university academics.