Business the Richard Branson Way: 10 Secrets of the World's Greatest Brand Builder, 3rd Edition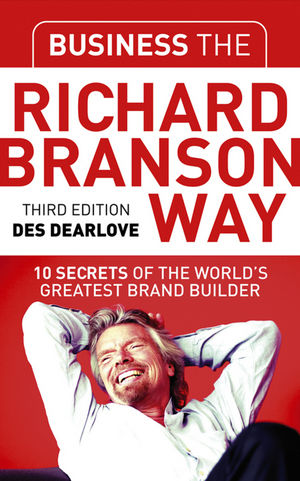 Business the Richard Branson Way: 10 Secrets of the World's Greatest Brand Builder, 3rd Edition
ISBN: 978-1-841-12766-8
Mar 2007, Capstone
188 pages
Description
In many ways, Richard Branson and his company the Virgin Group are unique. In an era dominated by strategists, Branson is an opportunist with an uncanny knack of sniffing out great deals where others hesitate or fear to tread. Never before has a single brand been so successfully deployed across such a diverse range of goods and services. Branson is the ultimate brand builder.

So how does he do it? Now bought completely up to date for this new edition, Business the Richard Branson Way, not only reveals the secrets of Branson's remarkable success but also draws out the universal lessons and identifies strategies that can be applied to any business or career. From picking on someone bigger than you to moving faster than a speeding bullet, and from making work fun to keeping the common touch, you have in your hands the secrets of phenomenal success.

Contents
Richard Branson Revisited
The Life and Times of Richard Branson
One Pick on Someone Bigger Than You
Two Do the Hippy, Hippy Shake
Three Haggle - Everything's Negotiable
Four Make Work Fun
Five Do Right By Your Brand
Six Smile for the Cameras
Seven Don't Lead Sheep, Herd Cats
Eight Faster than a Speeding Bullet
Nine Size Does Matter
Ten Never Lose the Common Touch
How to Build a Brand the Branson Way
Last Word
Acknowledgments.
Richard Branson Revisited … .
The Life and Times of Richard Branson.
One: Pick on Someone Bigger Than You.
Picking on the big guys is almost an article of faith for Virgin, but it also plays an important role in Branson's success.
Two: Do the Hippy, Hippy Shake.
With his informal style and non-conformist attitude, Richard Branson has been called a "hippy capitalist."
Three: Haggle: Everything's Negotiable.
One of Richard Branson's less well-known talents is a razor-sharp negotiating technique.
Four: Make Work Fun.
Creating an exciting work culture is the best way to motivate and retain good people; it also means you don't have to pay them as much.
Five: Do Right by Your Brand.
Look after your brand and it will last. Branson believes that as long as the Virgin brand's integrity is not compromised, then it is infi nitely elastic.
Six: Smile for the Cameras.
Media attention is a great way to promote your business. Every time Branson's picture appears in a newspaper or magazine, it promotes the Virgin brand.
Seven: Don't Lead Sheep, Herd Cats.
Rather than expect people to follow blindly where he leads, Branson relies on his ability to get the best from individuals by creating a challenging environment.
Eight: Move Faster Than a Speeding Bullet.
Branson moves quickly when an opportunity presents itself. He has created exceptionally short decision-making chains.
Nine: Size Does Matter.
Think big but keep it simple. Business start-ups are a Virgin speciality.
Ten: Never Lose the Common Touch.
Richard Branson's ultimate gift is the common touch. It is the real secret to his enduring success – and popularity.
How to Build a Brand the Branson Way.
Last Word.
Index.