BusinessObjects XI Release 2 For Dummies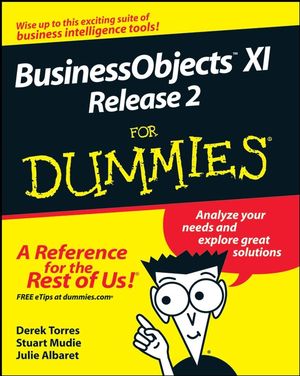 BusinessObjects XI Release 2 For Dummies
ISBN: 978-1-118-05198-6
Feb 2011
344 pages
Description
BusinessObjects may seem like a dauntingly complex topic, but BusinessObjects XI Release 2 For Dummies makes is a snap. Even if you're new to business intelligence tools, this user-friendly guide makes it easy to access, format and share data, analyze the information this data contains, and measure your organization's performance.

In no time, you'll be finding your way around Universes to see how everything is shaping up, viewing and creating reports, building powerful queries on your organizations database, and measuring your company's performance using BusinessObjects XI Release 2. This completely jargon-free handbook will put you in complete control of the ways and means of a truly exciting and powerful suite of business intelligence tools. Discover how to:
Make business decisions with help from BusinessObjects
Use BusinessObjects XI wizards
Perform a server installation
Create and define a Universe
Set up desktop reporting
Customize and use InfoView
Measure performance with Dashboard and Analytics
Take advantage of data marts and understand how they fit into your BusinessObjects system
Created by a team with more than 15 years combined experience working with BusinessObjects tools, BusinessObjects XI Release 2 For Dummies comes complete with several short lists of useful information, including tips on how to prepare for a successful BusinessObjects integration and helpful resources beyond the pages of this book. You'll also find an overview of Crystal Reports, BusinessObjects' companion reporting tool.
Introduction.
Part I: Getting Started with BusinessObjects.
Chapter 1: Business Intelligence and BusinessObjects XI Release 2: Working Hand in Hand.
Chapter 2: Deploying on a Single Computer.
Chapter 3: Performing a Server Installation.
Chapter 4: Taking Control with the Central Management Console.
Part II: Universes.
Chapter 5: Creating a Universe from the Safety of Your Desk.
Chapter 6: Defining a Universe.
Chapter 7: Joining Your Universe.
Chapter 8: Adding Dimensions to Your Universe.
Part III: Using Your Desktop for Reporting.
Chapter 9: Reporting Live from the Desktop.
Chapter 10: Building Queries.
Chapter 11: Documents in BusinessObjects.
Part IV: Making Web Intelligence Work for You.
Chapter 12: Getting Your Hands Dirty with InfoView.
Chapter 13: Setting Up Your Documents.
Chapter 14: Working with Your Completed Documents.
Part V: Keeping Track of How Your Organization Is Doing.
Chapter 15: A Different Kind of Dashboard.
Chapter 16: Making Better Decisions through Analytics.
Chapter 17: Using Performance Manager to Set Goals and Track Achievement.
Part VI: Getting the Best Possible Data with Data Marts.
Chapter 18: Putting Data Integrator to Work for You.
Chapter 19: Working with Data Marts.
Part VII: The Part of Tens.
Chapter 20: Ten Ways to Prepare for BusinessObjects Integration.
Chapter 21: Ten Resources to Help You.
Part VIII: Appendixes.
Appendix A: Reporting on Crystal Reports.
Appendix B: Glossary.
Index.