Busting Loose From the Business Game: Mind-Blowing Strategies for Recreating Yourself, Your Team, Your Business, and Everything in Between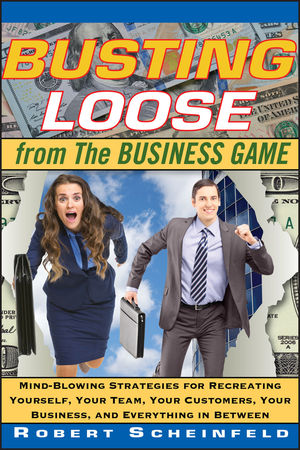 Busting Loose From the Business Game: Mind-Blowing Strategies for Recreating Yourself, Your Team, Your Business, and Everything in Between
ISBN: 978-1-118-03961-8 January 2011 288 Pages
Description
The Business Game—here's how you can win!
Are you a business owner, manager, or employee who struggles with:
Taxes, cash flow, sales, and profits
Marketing and advertising effectiveness
Hiring, motivating, and managing talent
The economy, stock market, and competitors
Bosses, boards, stockholders and partners
Never-ending to-do lists and sacrificing your quality of life to succeed?
If you answered "yes" to any of these, you've been playing The Business Game and suffering the consequences. Even if you're rolling in profits right now, there are hidden costs you're paying to earn that money—money that's always at risk.
You learned "the rules" and you've been faithful to them, thinking you can win. But you can't really win The Business Game, because it's designed to be unwinnable—that is, as long as you play by the rules you were taught. The only way to truly win is to bust loose from the "old" game and start playing a new game with a new set of rules.
This book helps you discover who you really are, what you're really capable of, and how you can tap new sources of power, wisdom, and abundance to radically transform your experience of business. When you bust loose from the old game, you'll suddenly be playing a new game:
For the sheer pleasure of playing, with no worries about sales, marketing, profits, cash flow, taxes, other people, or personal income
Entirely unaffected by the economy, stock market, competitors, or technological innovation
Having more fun with less effort than you've ever experienced
Doing only what you love to do—all day, every day
Watching as amazing results come your way, without having to "make it happen"
It may sound unbelievable, but it's entirely possible. You can do it—if you open your mind and embrace the strategies in this book. Busting Loose from The Business Game leads you into a New Business Game filled with results and satisfaction beyond anything you've ever imagined possible. Read on… and bust loose!
Table of contents
FOREWORD (
John Assaraf
).
INTRODUCTION.
CHAPTER 1 The Big Lie.
CHAPTER 2 The Big Truth.
CHAPTER 3 The Fantasy Factory.
CHAPTER 4 Dropping Anchors.
CHAPTER 5 The Physics of Fiction.
CHAPTER 6 The Two Ps.
CHAPTER 7 The Many Faces of Power.
CHAPTER 8 The Myth of Cause and Effect.
CHAPTER 9 Redefining the Nature of Business.
CHAPTER 10 The Sun and Clouds Effect.
CHAPTER 11 Assembling the Drill—Part 1.
CHAPTER 12 Assembling the Drill—Part 2.
CHAPTER 13 Stranger in a Strange Land.
CHAPTER 14 When the Going Gets Tough.
CHAPTER 15 Recreating Yourself, Your Team, Your Customers, Your Business, and Everything In Between.
CHAPTER 16 Red Pill or Blue Pill?
APPENDIX ADDITIONAL SUPPORT RESOURCES.
EXPRESSIONS OF APPRECIATION.
INDEX.