Buying Business Services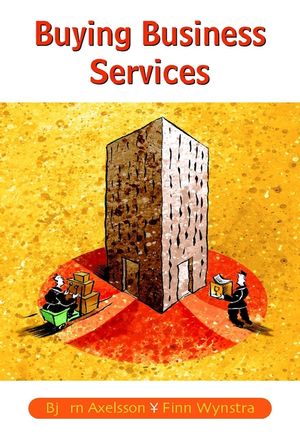 Buying Business Services
ISBN: 978-0-470-84302-4
Apr 2002
302 pages
Description
Purchasing is a function of growing interest and importance within most companies and organisations.  We also live in a society where services are being produced and consumed as never before.  This book aims to discuss the procurement of services in the context of the company as a whole, looking at both the integration of purchasing within the companies' flow of activities and the system of supply chains which can affect the conditions for purchasing behaviour.
Foreword
Acknowledgements
About the Authors
PART I: INTRODUCTION
1 The Increased Importance of Buying Services
The service society
Services defined
Development of the purchasing function
Buying business services
Summary and book overview
2 Business Services, their Providers and Customers
Types of business services
Types of business service providers
Types of business service customers
Different forms of business services
Conclusions
PART II: BUSINESS SERVICES AS FUNCTIONS AND ACTIVITIES
3 Business services in terms of activities, resources and actors
Services described as activities and functions
The A-R-A model
Allocation of activities between actors
Conditions for allocation of activities: production technology
Analysing and changing activity structures
Buying business services as resourcing
Activities, resources, actors and the concept of Supply Chain Management
Conclusions
4 Outsourcing and insourcing of functions and activities
Some illustrations of outsourcing and arguments for favour and against
Strategic aspects
Performance aspects
Organizational aspects
Deliberate versus emergent outsourcing
Summary checklist
Conclusions
5 Buyer-Supplier Interaction in Business Services Exchange Processes
Exchange processes between buyer and seller
Describing and understanding business interactions
The nature of exchange processes in relation to the type of business service
The complexity of the service and the type of problem solution
The type of service application
Basic services versus problem-solving services - a comment
Conclusions
6 The Impact of E-commerce
E- commerce - a definition
Some key benefits of ICT
Enabling techniques
The potential of e-commerce
Basic forms of e-procurement
E-commerce and the interaction patterns between actors
E-commerce and the impact of patterns of division of labour along supply chains
E-commerce and its' likely impact on different kinds of services
Barriers to exploiting e-technology
Conclusion
PART III: APPLICATIONS: THE PROCESS OF BUYING BUSINESS SERVICES
7 Specifying Business Services
Purchasing as a rational decision process
Service Level Agreements: a way of specifying business services
Methods for specifying business services
Business service quality
Quality deviations: when routines no longer work
Service quality assurance
Conclusions
8 Selecting and Evaluating Business Service Providers
The Importance of Supplier Selection and Evaluation
A model for data capture
Evaluation models
Prerequisites for a relationship: a matter of fit
Specific aspects to consider when the supplier is a service provider
Conclusions
9 Contracting Business Service Providers: Pricing, Negotiations and Payments
Pricing principles
Cost-based pricing
Market-based pricing
Value-based pricing
Interrelations between the three price elements
The impact of negotiation strategies
payment Principles
Conclusions
PART IV: REFLECTION
10 Transaction-oriented and Related-oriented purchasing
Transaction oriented purchasing philosophy
Relationship-oriented purchasing philosophy
Efficiency in supplier relations
Purchasing philosophy and buying business services
Purchasing philosophy and the use of ICT
Variations on the theme transaction vs. relation-oriented purchasing strategy
Combining different approaches
Conclusion
11 Buying business services: the market perspective versus the network perspective
Outer context: markets vs. networks
Purchasing in a market environment
Purchasing in a network environment
Two main categories of networks
Characterizing network structures
Networks of activities, actors and resources
The fundamentals of network structures
Networks as force fields
Networking to influence network structures and processes
Creating and designing supply structures
Markets and networks combined
Conclusion
12 Summary
The contents
Finally
References
Index
""…altogether a good textbook…recommended reading for all Supply Chain Professionals…"" (Newsletter of the European Supply Chain Forum)
Unique focus on purchasing business services.

Deals with manufacturing and service industry, and public procurement settings.

Covers a wide variety of business services, and differentiated purchasing approaches.

Emphasis on buyer-supplier interaction processes.