Buzz: Harness the Power of Influence and Create Demand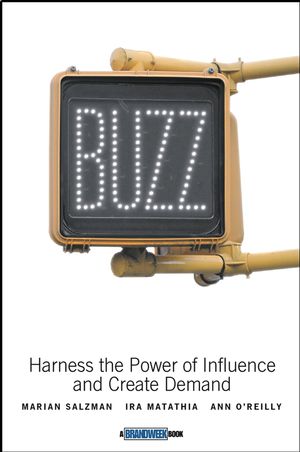 Buzz: Harness the Power of Influence and Create Demand
ISBN: 978-0-471-27345-5
Apr 2003
256 pages
Description
How to master the power of buzz
Trendspotters and bestselling authors Marian Salzman and Ira Matathia demystify buzz and show how marketers can create and leverage it for the success of their products and services. The world we inhabit is in constant flux, and the captive audience on which advertisers relied for years no longer exists. Branding today requires a flexibility and creativity that have thus far eluded many traditional practitioners. When there is no clear forum for communicating your brand message to the audience, you must have your audience do it for you. The authors show how and why buzz works, examining case studies like Kate Spade, Madonna, Bulgari, Ford, Nokia, and French Connection. They explore the role specific consumer groups play in setting trends, show how influence works, reveal the efficacy of shock ads, and explain how to manage brand momentum. This book is a dynamic guide that sheds new light on the topic of buzz using real-world examples and case studies that show how marketers can manufacture the seemingly authentic word-of-mouth to which today's cynical consumer responds.

Preface.
Introduction.
1. The Buzz about Buzz Marketing Is Building.
2. The Importance of Moving from A to Bee.
3. Tapping into the Superconnectors.
4. What Goes Up....
5. Managing the Ups and Downs: Lessons from the Perennials.
6. Silver Bullet Brands and Leaps of Faith.
7. Shock Treatment.
8. Media and Cyberspace.
9. Buzzing Youth.
10. Conclusion: Long Live the WORM.
Notes.
Glossary.
Acknowledgments.
Index.
""Marian Salzman has a knack for telling you what you'll be doing before you know it yourself."" (
The Observer
, 29 June 2003)
""...an enjoyable read, liberarally peppered with illuminating and insightful case studies..."" (Marketing, 3 July 2003)
"…well covered…" (Gulf Business, July 2003)
"…brand owners must get their wares talked about. The question is: how? The authors of Buzz... believe they have an answer…"(Financial Times, 24 July 2003)