CAIA Level I: An Introduction to Core Topics in Alternative Investments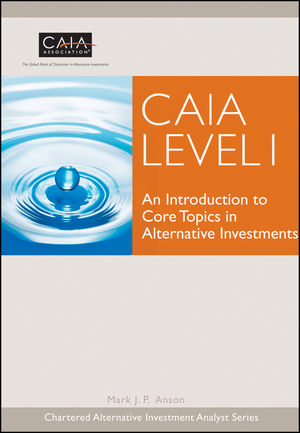 CAIA Level I: An Introduction to Core Topics in Alternative Investments
ISBN: 978-0-470-55724-2
Oct 2009
528 pages
Product not available for purchase
Description
Not to be used after March, 2012 Exams – CAIA Level I, 2nd Edition should be used to prepare for September 2012 Exam.
The official study text for the Level I Chartered Alternative Investment Analyst (CAIA) exam
The Chartered Alternative Investment Analyst (CAIA) designation is the financial industry's first and only globally recognized program that prepares professionals to deal with the ever-growing field of alternative investments. The CAIA Level I: An Introduction to Core Topics in Alternative Investments contains all material on alternative investments that a potential Level I candidate would need to know as they prepare for the exam.
The information found here will help you build a solid foundation in both traditional and alternative investment markets-for example, the range of statistics that are used to define investment performance as well as the many types of hedge fund strategies. It will also inform CAIA candidates on how to identify and describe aspects of financial markets, develop reasoning skills, and in some cases, make computations necessary to solve business problems.
Contains "need to know" material for Level I candidates and for alternative investment specialists
Addresses all of the unique attributes associated with the alternative investments space
Organized with a study guide outline and learning objectives with key terms, available for free at www.caia.org/program/studyguides
Focuses on alternative investments and quantitative techniques used by investment professionals
This book is a must-have resource for anyone contemplating taking the CAIA Level I exam.
Preface.
Acknowledgments.
About the Authors.
PART I INTRODUCTION TO ALPHA DRIVERS AND BETA DRIVERS.
1: What Is an Alternative Asset Class?
2: Why Alternative Assets are Important.
3: The Beta Continuum.
4: Alpha versus Beta.
5: The Calculus of Active Management.
PART II: REAL ESTATE.
6: Real Estate Investment Trusts.
7: Introduction to NCREIF and the NCREIF Indexes.
8: Real Estate as an Investment.
9: Core, Value Added and Opportunistic Real Estate.
PART III: HEDGE FUNDS.
10: Introduction to Hedge Funds.
11: Establishing a Hedge Fund Investment Program.
12: Due Diligence for Hedge Fund Managers.
13: Risk Management Part 1: Hedge Fund Return Distributions.
14: Risk Management Part II: More Hedge Fund Risks.
15: Hedge Fund Benchmarks and Asset Allocation.
16: Hedge Fund Incentive Fees and the Free Option.
17: Hedge Fund Collapses.
18: Top Ten Hedge Fund Quotes.
PART IV: COMMODITIES AND MANAGED FUTURES.
19: Introduction to Commodities.
20: Investing in Commodity Futures.
21: Commodity Futures in a Portfolio Context.
22: Managed Futures.
PART V: PRIVATE EQUITY.
23: Introduction to Venture Capital.
24: Introduction to Leveraged Buyouts.
25: Debt as Private Equity Part I: Mezzanine Debt.
26: Debt as Private Equity Part II: Distressed Debt.
27: Trends in Private Equity.
28: The Economics of Private Equity.
PART VI: CREDIT DERIVATIVES.
29: Introduction to Credit Derivatives.
30: Collateralized Debt Obligations.
31: Risks and New Developments in CDOs.
Appendix A: Basic Principles of Return and Present Value.
Appendix B: Measures of Risk and Risk Management.
Appendix C: Correlation and Regression Analysis.
Appendix D: The Quantitative Analysis of 130/30 Products.
Index.