CBI Series in Practical Strategy, Competitor Analysis: Turning Intelligence into Success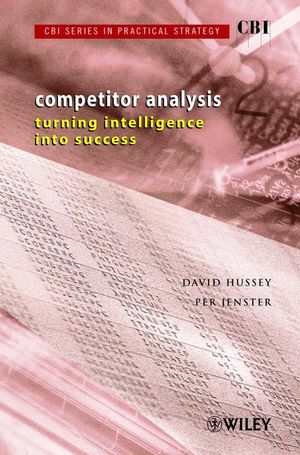 CBI Series in Practical Strategy, Competitor Analysis: Turning Intelligence into Success
ISBN: 978-0-471-49991-6 May 2003 296 Pages
Description
This book provides a comprehensive guide for marketing and planning practitioners, managers and management consultants to enable them to improve the competitor information and intelligence available to their organizations, and to use it to gain advantages over the competition. Competitor Analysis: Turning Intelligence into Success goes beyond the broad concepts, and gives practical advice on how to obtain and use the necessary information, offers strategies for both attack and defence. The text builds on a sound conceptual foundation, and draws heavily on the author's practical experience.
Series Foreword.

Preface.

About the Authors.

The Foundations for Competitor Analysis.

Attack, Defend or Collaborate?

Industry Analysis -
Key to Understanding the Competitive Arena.

Industry Analysis in Practice.

Using Critical Success Factors in Planning.

Understanding Competitors: Methods of Analysis.

Sources of Information for Competitor Analysis.

Competitor Analysis in Practice: A Case History.

Assessment of National Competitiveness: A European Example.

Organizing for Competitor Analysis.

The European Wine Industry.

The World Flavour Industry.

The West European Car Rental Industry.

Index.