CBI Series in Practical Strategy, Virtual Organizations and Beyond: Discovering Imaginary Systems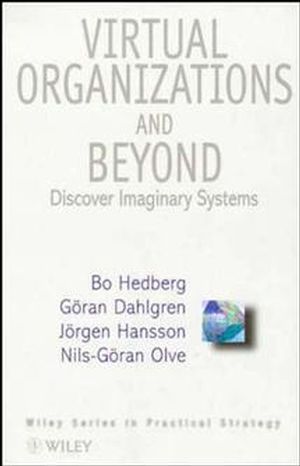 CBI Series in Practical Strategy, Virtual Organizations and Beyond: Discovering Imaginary Systems
ISBN: 978-0-471-97493-2 October 1997 250 Pages
Description
The virtual organization is a form where only what is used has tobe paid for. It has the capability of the real organization, butdoes not itself have the tangible facilities and permanentemployees that is the traditional way of meeting the requirementsof customer. It is a concept which gives flexibility, lower overallcost, and reduces the capital needs of a business. It is equallyapplicable to new and established businesses, and can provide bothwith a means of achieving success in business development andrenewal.
Like others in this series, this book provides a practical guidefor managers and entrepreneurs. It shows how those with vision andenergy, who do not have the facilities of a large traditionalcompany, can nevertheless achieve success, with no competitivedisadvantages. The book shows how to expand and grow withoutenlarging the organization, and how to gain access to competenceswithout employing more staff.
Well illustrated with case histories and examples, the bookreflects the experience of the authors in actually applying theconcepts they write about. Checklists and questionnaires areprovided where they are helpful. Practical experience is supportedby research, and the result is a practical guide to setting up andmanaging this new form of organization.
'Bo Hedberg is again out in front and leading us into the future ofmanagement. Managerial insight and advanced technology are makingit possible to create coalitions with the advantages of bothmarkets and hierarchical organizations. In this book, Hedberg andhis colleagues explain how these coalitions work and what they needto work best'. William H. Starbuck, ITT Professor of CreativeManagement, Stern School of Business, New York University
'Professor Hedberg's and his colleagues' pioneering work inidentifying and highlighting what makes virtual organizations tickis very timely. The competitive environment in financial servicesrequires that highly motivated professionals voluntarily sharetheir best ideas and dreams with their leaders to ensure customersatisfaction. The authors have rightly identified this crucialpoint in our success story.' Jan R. Carendi, Senior Executive Vicepresident, Skandia AB and Chief Executive Officer, SkandiaAssurance & Financial Services.
The Imaginary Organization: Discover a New Perspective.

The Imaginary Organization: Related Theories andPerspectives.

Patterns of Creation, Renovation, and Extension.

Examples of Successful Creation, Renovation, and Extension.

Creation.

Renovation.

Extension.

Observations from the Case Studies.

Focusing Strategy on Core Competence.

Cultivating the Involvees.

Management Control.

Financing and Ownership.

Leadership: More Managing by Fewer Managers.

Creation, Renovation, and Extension: A Summary.

Appendix.

References.

Index.