CCENT: Cisco Certified Entry Networking Technician Study Guide: ICND1 (Exam 640-822)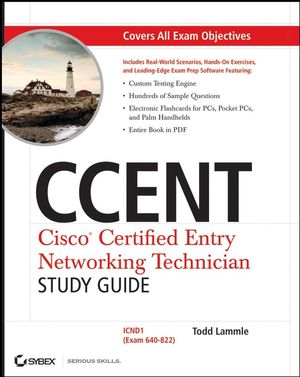 Description
Start your preparation for Cisco's new CCENT entry-level networking certification, your entry point into Cisco's popular CCNA certification track. This comprehensive study guide from leading Cisco authority Todd Lammle thoroughly prepares you for the Interconnecting Cisco Networking Devices, Part 1 exam (640-822) and the start of a career, with pages of exam essentials, real-world scenarios, and hands-on exercises. Topics include the operation of data networks, how to implement both switched and routed networks, and much more.



For Instructors: Teaching supplements are available for this title.
Introduction.
Assessment Test.
Chapter 1: Internetworking.
Chapter 2: Internet Protocols.
Chapter 3: IP Subnetting, Variable Length Subnet Masks (VLSMs), Troubleshooting IP, and Introduction to NAT.
Chapter 4: Introduction to the Cisco IOS and SDM.
Chapter 5: Managing a Cisco Internetwork.
Chapter 6: IP Routing.
Chapter 7: Layer 2 Switching.
Chapter 8: Wireless Technologies.
Chapter 9: Security.
Chapter 10: Introduction to Wide Area Networks.
Appendix A: About the Companion CD.
Glossary.
Index.
Chapter
Page
Details
Date
Print Run
3
176-7
Text correction: Errors in answers to Written Labs
Written Lab 3.1:
In the answer to question 3., the last two sentences, "The host is in the 32 subnet, broadcast address of 63. Valid host range of 33-62" should read:
"The host is in the 64 subnet, broadcast address of 95. Valid host range of 65-94."

Written Lab 3.3:
In the fourth line of the table, for the decimal IP address 63.24.89.21/18, the entry under Number of Hosts is incorrect. It should be 16,382.
7/23/09

---