CCENT Virtual Lab 2.0: Exam 100-101 (ICND1), Download Edition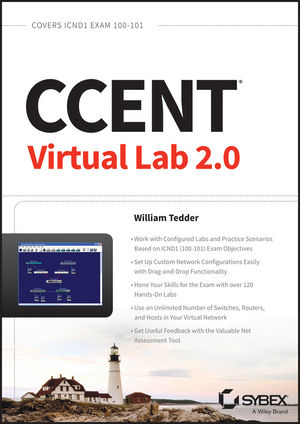 CCENT Virtual Lab 2.0: Exam 100-101 (ICND1), Download Edition
ISBN: 978-1-118-78972-8
Nov 2013
Product not available for purchase
Description
Create a simulated networking environment at a fraction of the cost
This robust network simulator is perfect for Cisco Certified Entry Network Technician (CCENT) certification candidates or anyone seeking cost-effective, hands-on experience with Cisco routers and switchers. You can create a virtual simulated environment with an unlimited numbers of routers and switches, without the extra costs associated with hardware. This special software package is packed with content including over 120 practice labs, as well as all the hands-on labs in Sybex's new CCENT Study Guide.
Enables you to create a simulated network environment at a fraction of the cost of the real thing
Helps you prepare for CCENT exam ICND1 (100-101), or obtain valuable hands-on experience even if you're not seeking certification
Features over 120 preconfigured labs and troubleshooting scenarios for extra practice, such logging in and out of a Cisco router, configuring router interfaces for the 2621 and 2811 router, configuring static or default routes
Complements the Sybex CCENT Study Guide (ISBN: 9781118749685) and includes all the hands-on labs from that book
Includes Net Packet Monitor, which shows the path a packet takes through a network in real time
Provides instructors a Net Assessment tool to determine a student's ability to assess and fix a broken network
Get the hands-on practice you need to master Cisco networking or to achieve CCENT certification with the CCENT Virtual Lab 2.0.