CCIE: Cisco Certified Internetwork Expert Study Guide: Routing and Switching, 2nd Edition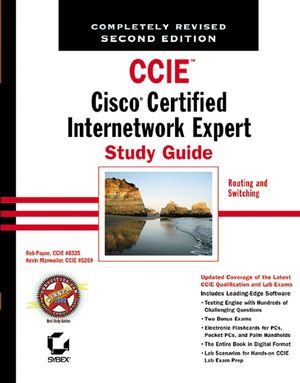 CCIE: Cisco Certified Internetwork Expert Study Guide: Routing and Switching, 2nd Edition
ISBN: 978-0-782-15198-5
Feb 2006
1068 pages
Product not available for purchase
Description
Here's the book you need to prepare for Cisco's CCIE Qualification and Lab Exams. This Study Guide provides:
Assessment testing to focus and direct your studies
In-depth coverage of all exam objectives
Hundreds of challenging practice questions, in the book and on the CD
Authoritative coverage of all official exam topics, including:
Hierarchical network design
Static versus dynamic routing
Cisco Discovery Protocol (CDP)
Point-to-Point Protocol (PPP)
Frame Relay and ATM technologies
Token Ring
Ethernet LAN technologies
IP addressing and subnetting
Interior Gateway Protocol (IGP) and Exterior Gateway Protocol (EGP)
Configuring static and dynamic NAT
Border Gateway Protocol (BGP)
Bridging and Data Link Switching (DLSw)
Access Control Lists (ACLs)
Route filtering capabilities
Cisco IOS quality of service
Enhancing and maintaining network security
Cisco's multiservice configuration and support
IP multicast
Internet Control Message Protocol (ICMP)
Note: CD-ROM/DVD and other supplementary materials are not included as part of eBook file.
Introduction.
Assessment Test.
Chapter 1: Network Design and Concepts.
Chapter 2: Configuration and IOS Commands.
Chapter 3: WAN Technologies and Configuration.
Chapter 4: Asynchronous Transfer Mode (ATM).
Chapter 5: Token Ring.
Chapter 6: Ethernet LAN Technologies.
Chapter 7: Building the Layer 2 Network.
Chapter 8: IP Addressing and Subnetting.
Chapter 9: IP Interior Gateway Protocols.
Chapter 10: Protocol Redistribution and NAT.
Chapter 11: Configuring the Layer 3 Network.
Chapter 12: Border Gateway Protocol (BGP).
Chapter 13: Non-IP Protocols.
Chapter 14: Bridging and Data-Link Switching (DLSw).
Chapter 15: Integrated Services Digital Network (ISDN) and Dial Backup.
Chapter 16: Access Control Lists (ACLs).
Chapter 17: Route Filtering Capabilities.
Chapter 18: Quality of Service (QoS).
Chapter 19: Network Security.
Chapter 20: Multiservice Technologies.
Chapter 21: IP Multicast.
Chapter 22: IP Services.
Index.
Chapter
Page
Details
Date
Print Run
Combined Errata


Page 10

Under Scalable Internetworks, last bullet should be deleted.

Page 14

Para 4, line 2, should read "...172.16.10.1. Server A, which has two NICs, and is acting as a router between the two NICs, also gets a default gateway of 172.16.10.1."

Page 59

Step #4, says to issue "copy run start". This is incorrect, see detailed description
That was a typo, but the sentence prior to the
command states the correct action - "you can copy the startup-config
file to running-config".

Page 75

The last half of the first paragraph, "first-line security mechanism", is redundant

Page 89

Para 1, line 3, 24x65Kbps should read "24x64Kpbs"

Page 92

Under Packet Switching, line 4, conversation should be plural "conversations".

Page 99

Under Figure 3.2, para 2, line 2, beginning of line should read "devices through DCE devices."

Page 107

Under Frame Relay Switch Configuration Command, para 1, last sentence should read "On the Frame Relay switch (FS), dlci 102 on serial port S1 is mapped to dlci 201 on serial port S0."

Page 108

Under Global Commands, see detailed description.
Table should read as follows:

frame-relay switching Allows a router to perform Frame relay switching functions.

Page 126

Key Terms, "bipolar 8-zero suppression (B8ZS)" should read "bipolar 8-zero substitution"

Page 135

Para 1, line 1, "12 bits" should read "16 bits" Para 1, line 2, "4096 virtual circuits" should read "65,536 virtual circuits"

Page 154

Router R3 table, line 1, cell 1, should read "interface ATM 3/0 no ip address"

Page 207


1. Bottom of the page, above the text table should read: "...show port 2/10"

2. Bottom of page output, in the Port column should be "2/10", and Under the Duplex column should be "full".

3. Bottom of the page, Last sentence, should read "Port 2/10 has its name modified..."

Page 217

Configuration commands table, clear trunk 2/1 2-1001 explanation, line 5, "VLANs 2-1000" should read "VLANs 2-1001"

Page 219

1. Middle of page, last command should read "switchport trunk alllowed vlan add 100-200" 2. Bottom of page output, "Vlans allowed on trunk" should be "1, 100-200", "Vlans allowed and active in management domain" should be "1, 100-200", and "Vlans in spanning tree forwarding state and not pruned" should be "1, 100-200"

Page 239

Middle of page, "spanning-tree vlan 100 cost 22" command, should read "This command sets the STP cost of VLAN 100 on port…"

Page 240

In the left-hand column, is "172.16.1.100", this should be the last part of the description for the "set ip route 0.0.0.0 172.16.1.100" command.

Page 243

Under Logging Commands, para 1, last sentence, should read "Syslog messages will be covered in Chapter 19, "Network Security".

Page 246

Output at the bottom of the page, The "monitor session 1 source interface fastethernet 0/19" command should be on one line, and the "monitor session 1 destination interface fastethernet 0/23" command should be on one line.

Page 306

Para 3, line 1, should read "The advantage of this hierarchical scheme is that…"

Page 354

The "ip default-network 147.19.0.0" command should be on one line

Page 376

Table 9.6, need corrections to the "DS0 (64K)" row, under the "BW x 256" column, should read "40000000 (156250x256)", the Default Interface Delay" column, should read "20000", and the "Delay/10" column, should read "512000 (2000x256)"

Page 383

Table 9.7, row 5, Max hop count, Value is 255 not "224"

Page 384

Description (right-side column) for the "no ip split-horizon eigrp 100" command, should read "Split-horizon is enabled on interfaces by default. When split horizon is enabled…"

Page 394

Second paragraph should read "… Type, Length and Value (TLV) types 2, 22, 128, 130, 135, and so on."

Page 401

Under "*********R1*********", the following three command lines should be deleted: router isis net 49.0002.3333.3333.3333.00 is-type level-1

Page 410

Figure 9.15 (lower left corner of figure), the router R6 (with loopback address 10.1.254.2/32) should be labeled as R2.

Page 411

Figure 9.16, the following loopback IP addresses should be corrected: R1 = 10.1.254.1 R2 = 10.1.254.2 R4 = 10.1.254.4 R5 = 10.1.254.5 R6 = 10.1.254.6

Page 415

Third paragraph, should read "If the routers agree on these six items…"

Page 421

1. The "network 0.0.0.0 255.255.255.255.255 area 0" command, should read "network 0.0.0.0 255.255.255.255 area 0" 2. In the NOTE, should read "… statements configured: 0.0.0.0 255.255.255.255 area 0 and…"

Page 424

Second paragraph, should read "…address space: Routers R2 and R4 are both ABRs."

Page 436

The command "summary address 172.16.0.0 255.255.0.0" command, should read "summary-address 172.16.0.0 255.255.0.0"

Page 452

Para 2, line 2, "chapter 16" should read "chapter 17"

Page 468

Description (right-side column) for the "ip nat inside source list 10 pool lynne" command, should read "Inside Local (IL) address that matches access-list 10 can be NAT'd…"

Page 471

The command "ip nat pool lynne 147.19.10.21 147.19.10.22 netmask 255.255.255.255" command, should read "ip nat pool lynne 147.19.10.21 147.19.10.21 netmask 255.255.255.255"

Page 529

Under Classful, Classless Inter-Domain Routing and Summarization, para 1, line 4,"no auto summary" should read "no auto-summary"

Page 531

1. Para 1, line 4, "R1" should read "R2" 2. Description (right-side column) for the "neighbor 131.2.1.4 remote-as 200" command, should read "Define iBGP neighbor to router R4 specifying…"

Page 541

Para 4, line 1, "2 bytes" should be "16 bytes"

Page 554


Description (right-side column) for the "neighbor 192.1.1.4 remote-as 200" command, should read "Defines eBGP peer to router R4 in AS 200"


The command "neighbor 131.1.0.5 remote-as 200" command, should read "neighbor 131.1.0.5 remote-as 100"


The command "neighbor 192.1.2.3 remote-as 100" command, should read "neighbor 192.1.2.3 remote-as 200"


Description (right-side column) for the "neighbor 192.1.2.3 remote-as 200" command, should read "Defines eBGP peer to router R3 in AS 200"

Page 558

Para 4, line 5, "send community" should read"send-community"

Page 588

The "network 134.4.1.0 mask 255.255.255.0" command should be on one line, and the "network 134.4.2.0 mask 255.255.255.0" command should be on one line.

Page 589

Para 2, line 6, "send community" shoud read "send-community"

Page 648

Para 1, sentence 1, should read "When bridge 1 looks at the Broadcast bits of the Routing Control field in the RIF and notes that this frame is an ARE."

Page 657

IP address for the "interface Serial0/0", should read "ip address 147.19.21.1 255.255.255.0", and for "interface Tokenring0/0", should read "ip address 147.19.11.1 255.255.255.0

Page 658

The "source-bridge remote-peer 75 tcp 147.19.1.1" command should be on one line.

Page 659

IP address for the "interface Serial0/0", should read "ip address 147.19.22.2 255.255.255.0", and for "interface Tokenring0/0", should read "ip address 147.19.20.2 255.255.255.0"

Under "Router R2 Configuration", insert a "source-bridge fst-peername 147.19.2.2" command.

Page 663

Bottom of page (under interface Tokenring0/1), delete the "source-bridge 2 1 1" command and its description.

Page 670

1. Para 1, line 1, "Ethernet 0/3" should read "Ethernet 0/2" 2. Para 2, line 8, "E0/2" should read "EO/1"

Page 671


1. Delete the three commands:
interface Ethernet 0/1
no ip address
bridge-group 2

2.Correct "interface Ethernet 0/2" to read "interface Ethernet 0/1", and correct "interface Ethernet 0/3" to read "interface Ethernet 0/2"

3. IP address for the "interface Ethernet 0/2", should read "ip address 147.19.34.8 255.255.255.0", and for "interface BVI 2", should read "ip address 147.19.16.1 255.255.255.0"

Page 675

Under the "DLSw Transport Methods" section, second paragraph should read "Also provides automatic rerouting around link failures.

DLSw utilizes TCP port 2065 (read-access) and TCP port 2067 (write-access).

Page 678

Para 4, line 9, "50 3 1 2" should read "75 3 1 2"

Page 679

1. Para 1, line 4, "50" should be "75" 2. IP address for the "interface Serial0/0", should read "ip address 147.19.21.1 255.255.255.0", and for "interface Tokenring0/0", should read "ip address 147.19.11.1 255.255.255.0"

Page 680

IP address for the "interface Ethernet0", should read "ip address 147.19.3.3 255.255.255.0".

Page 682


1. IP address for the "interface Serial0/0", should read "ip address 147.19.22.2 255.255.255.0", and for "interface Tokenring0/0", should read "ip address 147.19.20.2 255.255.255.0"

2. For the command "dlsw remote-peer 0 fst 147.19.3.3", the description "Set R3 as a remote peer using fst encapsulation" should be aligned under the right-hand column.

Page 684

Bottom of the page, the command "dlsw remote-peer 0 frame-relay interface serial 0/0 302 pass-thru", should read "dlsw remote-peer 0 frame-relay interface serial 1 302 pass-thru"

Page 685

The command "dlsw remote-peer 0 frame-relay interface serial 0/0 301 pass-thru", should read "dlsw remote-peer 0 frame-relay interface serial 0 301 pass-thru"

Page 687

The command "dlsw remote-peer 0 frame-relay interface serial 0/0 302", should read "dlsw remote-peer 0 frame-relay interface serial 1 302". And the command "dlsw remote-peer 0 frame-relay interface serial 0/0 301", should read "dlsw remote-peer 0 frame-relay interface serial 0 301"

Page 689


1. First paragraph, should read "…with a primary DLSw connection from R3 to router R2. We will configure a backup connection from router R3 to router R1."

2. Description (right-side column) for the "dlsw remote-peer 0 tcp 147.19.1.1 backup-peer 147.19.2.2 linger 8" command, should read "Defines the remote peer IP address (147.19.1.1), and if remote-peer 147.19.2.2 [primary] is unreachable, connect to 147.19.1.1 [backup] as a remote-peer."

Page 693

Under the "Configuring Bridge Groups and Ring Lists" section, the following commands need corrections:
"Bridge group list number", should be "bgroup-list [number]"
"port list number", should be "port-list [number]"
"ring list number", should be "ring-list [number]"

Page 710

Para 1, line "192Kbps" should read "128Kbps"

Page 776

Under the "IPX Standard Access Lists" section, line 3, second sentence, should read "IPX standard access lists restrict the filtering capabilities to source-destination IPX networks-addresses."

Page 783

The last part of command "lsap-output-list [access-list-number]", should be on one line.

Page 787

Question 5, should read "What is the correct wildcard mask to deny all odd networks for the 192.168.1.0 network?"

Page 795

Para 3, line 1, should read "Standard access lists (1-99) and extended access lists (100-199) can be used…

Page 796

First paragraph, should read "…any routes that match 147.19.0.0/16 to /32 are entered in the routing table." Also, "…any route prefix from 147.19.0.0/16 to /32 will be installed in the routing table:"

Page 797

Under the "Applying a distribute-list out (Example 2)" section, should read "If there were a lot of 147.19.0.0 subnets being sent in the RIP update…"

Page 800

Under the "Applying a Distribute List with an Extended Access List" section, should read "The following extended access list example will permit route 147.19.1.0/24 but deny 147.19.0.0/16 and all other subnets of 147.19.0.0:"

Page 837

Middle of page, the command "set ip precedence 6", should read "set ip precedence 5"

Page 838

Last para, line 4, "driver's" should read "router's"

Page 840


1. Para 3, line 2, "greater than 750 bytes" should read "less than 750 bytes"

2. Description (right-side column) for the "priority-list 5 protocol ipx normal lt 750" command, should read "ipx packets less than 750 bytes are assigned to the normal queue"

Page 852

Under the "Configuring CBWFQ" section, should read "Class 1 is all traffic to network 10.10.10.0/23 and should receive 300Kbps of the bandwidth", and "Class 2 is all traffic to network 10.20.20.0/24 and should receive 200Kbps of the bandwidth"

Page 854

Description (right-side column) for the "random-detect precedence 3 30 60" command, should read "Configure WRED parameters for IP precedence 3, min = 30, max = 60" and, the description for the "random-detect precedence 4 40 60" command, should read "Configure WRED parameters for IP precedence 4, min = 40, max = 60"

Page 856

First paragraph, should read "Class immediate-data matches all packets that have IP Precedence 2 and 200Kbps of interface bandwidth…", and "Class priority-data matches all packets that have IP Precedence 1 and 100Kbps of interface bandwidth…"

Page 867

Under the "Configuring Policing" section, the command "rate-limit input access-group 101 1000000 10000 20000 conform-action transmit exceed-action drop" should be one line, and the description (right-side column) should be under the command.

Page 882

Second paragraph, the last sentence "There are three primary types of security servers supported by Cisco routers, namely RADIUS, TACACS, and Kerberos." should be deleted.

Page 893

Under the "IOS Firewall Feature Set" section, second paragraph should read "We set up a NAT for this server to 172.28.1.10 and allow mail…"

Page 927

Under the "Number Expansion" section, second paragraph should read "In this example, the full E.164 telephone number 408-555-XXXX…"

Page 948

First paragraph, the sentence "This leaves 28 bits for host specification." should be deleted.

Page 954

Figure 21.11, Step 2 should read "Router receives report, creates GDA and USA, and enables multicast forwarding on interface Fa0/0", and Step 3 should read "Switch receives CGMP Join. Establishes a multicast CAM entry for port 2/1 (group 01-00-5E-02-A5-91)"

Page 988

Under the "Router R1 Configuration" section, should read "Here is the configuration for router R1, which is given the highest precedence and has its advertisement interval lowered from 5 minutes to 20 seconds:"

Page 1004

Bottom of page, should read "Router R1 is the master as a stratum level 3. R2 is configured with an ntp server command…"




---