CCNA: Cisco Certified Network Associate: Fast Pass, 3rd Edition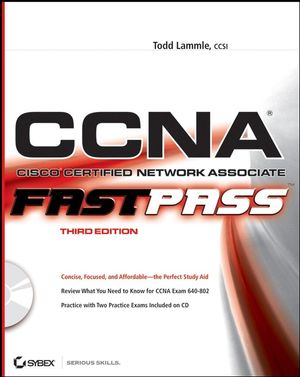 CCNA: Cisco Certified Network Associate: Fast Pass, 3rd Edition
ISBN: 978-0-470-25847-7
Feb 2008
504 pages
Product not available for purchase
Description
Organized by exam objectives, this is a focused, concise review guide that works hand-in-hand with any learning tool, including the Sybex CCNA: Cisco Certified Network Associate Study Guide, 6th and Deluxe editions.

The book will consist of four high-level chapters, each mapping to the four main Domains of the exam skill-set. The book will drill down into the specifics of the exam, covering the following:
Designing Cisco internetworks
Developing an access list
Evaluating TCP/IP communication
Configuring routers and switches
Configuring IP addresses, subnet masks, and gateway addresses
Performing LAN, VLAN, and WAN troubleshooting
Understanding rules for packet control
The interactive CD contains two bonus exams, handy flashcard questions, and a searchable PDF of a Glossary of Terms.
Introduction.
Chapter 1: Describe how a network works.
Chapter 2: Configure, verify, and troubleshoot a switch with VLANs and interswitch communications.
Chapter 3: Implement an IP addressing scheme and IP Services to meet network requirements in a medium-size Enterprise branch office network.
Chapter 4: Configure, verify, and troubleshoot basic router operation and routing on Cisco devices.
Chapter 5: Explain and select the appropriate administrative tasks required for a WLAN.
Chapter 6: Identify security threats to a network and describe general methods to mitigate those threats.
Chapter 7: Implement, verify, and troubleshoot NAT and ACLs in a medium-sized Enterprise branch office network.
Chapter 8: Implement and verify WAN links.
Appendix A: About the Companion CD.
Glossary.
Index.
Chapter
Page
Details
Date
Print Run
1
3
Incorrect image in Figure 1.1
The image used in Figure 1.1 is a duplicate of Fig. 1.2 and is incorrect. You can download a copy of the correct image on the Resources and Downloads page.
11/21/08

---

8
Error in Figure Number
On page 8, Let's go back to Figure 1.4. Looking at the figure, how many collision domains and how many broadcast domains are in this network?

When book goes on to answer the above, book is actually referring back to Figure 1.3, not Figure 1.4.
03/04/2008

---

1
47
Incorrect figure: Figure 1.22
Under Determining IP Address Problems, the first figure, Fig. 1.22, IP address problem 1, is incorrect. Go to the Resources and Downloads page to download an image file of the correct figure. Note that the file is in .eps format and will require a graphics application to view.
7/2/09

---

2
137
Text correction: Chapter 2 Review Questions, Question 1.
Superfluous numbering. Due to a formatting error, the options have been ordered in a list so that each line appears as a separate option. There are four options. The answers should be formatted like this:

A.Switch(configs)#int fa0/1
Switch(configs-if)#ip address 192.168.10.252 255.255.255.0
Switch(configs-if)#no shut
B. Switch(configs)#int vlan 1
Switch(configs-if)#ip address 192.168.10.252 255.255.255.0
Switch(configs-if)#ip default-gateway 192.168.10.254 255.255.255.0
C. Switch(configs)#ip default-gateway 192.168.10.254
Switch(configs)#int vlan 1
Switch(configs-if)#ip address 192.168.10.252 255.255.255.0
Switch(configs-if)#no shut
D. Switch(configs)#ip default-network 192.168.10.254
Switch(configs)#int vlan 1
Switch(configs-if)#ip address 192.168.10.252 255.255.255.0
Switch(configs-if)#no shut

3/20/09

---

3
163
Text correction: Exam Objectives
The last sentence, beginning: Classless routing protocols are RIP and IGRP...
Should read:
Classful routing protocols are RIP and IGRP, and classless routing protocols are RIPv2, EIGRP, and OSPF.
5/1/08

---

3
182
Incorrect figure: Figure 3.15
Under Determining IP Address Problems, the first figure, Fig 3.15, IP address problem 1, is incorrect. Go to the Resources and Downloads page to download an image file of the correct figure. Note that the file is in .eps format and will require a graphics application to view.
6/25/08

---