CCNA: Cisco Certified Network Associate Study Guide: Exam 640-801, 5th Edition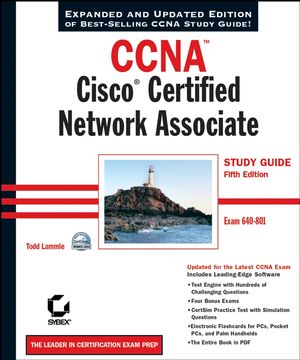 Description
Here's the book you need to prepare for Cisco's CCNA exam, 640-801.

This Study Guide was developed to meet the exacting requirements of today's Cisco certification candidates. In addition to the engaging and accessible instructional approach that has earned author Todd Lammle the "Best Study Guide Author" award in CertCities Readers' Choice Awards for two consecutive years, this updated fifth edition provides:
In-depth coverage of every CCNA exam objective
Expanded IP addressing and subnetting coverage
More detailed information on EIGRP and OSPF
Leading-edge exam preparation software
Authoritative coverage of all exam objectives, including:
Network planning & designing
Implementation & operation
LAN and WAN troubleshooting
Communications technology
Introduction.
Assessment Test.
Chapter 1: Internetworking.
Chapter 2: Internet Protocols.
Chapter 3: IP Subnetting and Variable Length Subnet Masks (VLSMs).
Chapter 4: Introduction to the Cisco IOS.
Chapter 5: IP Routing.
Chapter 6: Enhanced IGRP (EIGRP) and Open Shortest Path First (OSPF).
Chapter 7: Layer 2 Switching.
Chapter 8: Virtual LANs (VLANs).
Chapter 9: Managing a Cisco Internetwork.
Chapter 10: Managing Traffic with Access Lists.
Chapter 11: Wide Area Networking Protocols.
Appendix A: Commands in This Study Guide.
Glossary.
Index.
Chapter
Page
Details
Date
Print Run
Combined Errata


Page 0CD

Chapter 2 Question 9 The book and CD says the answer is C, it should read B - HTTPS. The explanation is correct.

Page 41

Paragraph 5 Last sentence -The sentence reads, "It the packet is destined for a remote host, IP will look for the IP address of the default gateway (router) instead". The "It" in the beginning of the sentence should be an "If".

Page 51

Question 9 - Option F needs to be removed from the question.

Page 102

Chapter 2 Question 9 The book and CD says the answer is C, it should read B - HTTPS. The explanation is correct.

Page 129

Practice Example #2A Last column of table, all IPs should be 10.255.x.x not 10.0.x.x
Response...

Yes, this is correct.
After the ... in this practice example #2A on page 129, here is what it
should be

10.255.240.0
10.255.240.1
10.255.255.254
10.255.255.255

Page 132

Figure 3.2 it says "The mask 255.255.255.240 (/28) provides 14 subnets, ..." should be "The mask 255.255.255.240 (/28) provides 16 subnets, ..."

Page 140

Exam 640-801: On page 140, the first sentence below Figure 3.9 should be changed from "From the list of IP addresses on the left of the figure,..." to "From the list of IP addresses on the right of the figure,..."

Page 146

Towards the bottom of the page: Existing: Host B IP address 192.168.10.34-62 should be Host B IP address 192.168.10.34-46

Page 152

Chapter 3 Question 11 - Updated 04/20/05
Support, the new question and explanation is after the old one - the
question, answer and explanations were wrong somehow. Please replace this
question in the next printing:

____________________________________________________________
Which of the following IP addresses fall into the CIDR block of
110.68.4.0/22? (Choose three.)
A. 110.68.8.32
B. 110.68.7.64
C. 110.68.6.255
D. 110.68.3.254
E. 110.68.5.128
F. 110.68.12.128
Answer: B, C, E.
New explanation:
A Class A network address with a /22 is 255.255.252.0. The subnets
in the third octet are 0, 4, 8, 12, etc. The network address in the
question is 110.68.4.0, with a broadcast of 110.68.7.255, since the
next subnet is 110.68.8.0. Answers B, C, and E are correct host IDs.


*NEW*
This is really an issue with your revised solution to an errata
problem already reported, regarding Question 11 in Chapter 3, pages
152 & 155. Your revised answer reads:

*NEW*
____________________________________________________________
Which of the following IP addresses fall into the CIDR block of
110.68.4.0/22? (Choose three.)
A. 110.68.8.32
B. 110.68.7.64
C. 110.68.6.255
D. 110.68.3.254
E. 110.68.5.128
F. 110.68.12.128

Answer: B, C, E.
New explanation:
A Class A network address with a /22 is 255.255.252.0. The subnets
in the third octet are 0, 4, 8, 12, etc. The network address in the
question is 110.68.4.0, with a broadcast of 110.68.7.255, since the
next subnet is 110.68.8.0. Answers B, C, and E are correct host IDs.

Page 155

Chapter 3 Question 11 - Answer
Support, the new question and explanation is after the old one - the
question, answer and explanations were wrong somehow. Please replace this
question in the next printing:

____________________________________________________________
Which of the following IP addresses fall into the CIDR block of
110.68.4.0/18? (Choose three.)
A. 110.68.8.32
B. 110.68.7.64
C. 110.67.6.255
D. 110.66.3.254
E. 110.65.5.128
F. 110.64.12.128

Answer: B, C, E.

A Class A network address with a /18 is 255.255.192.0. The subnets in the
third octet are 0, 64, 128, 192. The network address in the question is
110.64.0.0, with a broadcast of 110.64.127.255, since the next subnet is
110.64.128.0. Answers B, C, and E are correct host IDs.


*NEW*
____________________________________________________________
Which of the following IP addresses fall into the CIDR block of
110.68.4.0/22? (Choose three.)
A. 110.68.8.32
B. 110.68.7.64
C. 110.68.6.255
D. 110.68.3.254
E. 110.68.5.128
F. 110.68.12.128

Answer: B, C, E.
New explanation:
A Class A network address with a /22 is 255.255.255.252. The subnets in the
fourth octet are 0, 4, 8, 12, etc. The network address in the question is
110.68.4.0, with a broadcast of 110.68.7.255, since the next subnet is
110.68.8.0. Answers B, C, and E are correct host IDs.

Page 187

The second command (line) from the bottom of the page should read "Router(config-line)#exit" instead of just Router(config)#exit

Page 189

"Router(Config)-if)#" should be "Router(Config-if)#"

Page 213

Question 11: In the multiple choice questions B and D, the router prompt should be "SFRouter", not "SFRemote"

Page 218

Answer 11 should be C, not D

Page 235

Fourth line down should be 192.168, not 172.16

Page 236

End of first paragraph should be 192.168, not 172.16

Page 271

Line 3-4 Should read "debug ip rip" not "debug ip route"

Page 275

The text reads: "Table 5.3 shows our IP addresses for each router..." That should read Table 5.5.

Page 276

Step 1 reads, "...The 2621A router fa0/0 interface has an ip address of 172.16.10.2/24, and the 2501A Ethernet 0 interface is 172.16.10.1/24." This part of the question contradcits table 5.5.

response..
Yes, the static routes in step one should all go to 172.16.10.2

Page 282

Question #7, answer A. should read:
"RouterC will use an ICMP to inform HostA that HostC cannot be reached."

Page 326

4 lines from bottom. IP addresses should be 192.168.10.64 through 192.168.10.95

Page 517

Answer numbering is incorrect

The answer to question 3 (Written Lab 10) should be "access-list 10 deny host 192.168.15.5" where the IP address of the host is different.

Page 570

Q12. The command variables 180 and 40% have been transposed.

Page Authors Note

Chapter 4 -Enabling Passwords
> Under chapter 4, the book goes into enabling passwords on the console
> line and the vty line. One method suggest you enter the login command
> before entering the password, then it suggest entering the password
> then entering the login command. Which is the correct way of doing
> this on the ccna exam????

response ..
It can be either way, as mentioned. Cisco asks it both ways, which is why I
show it both ways. The latest IOS only supports the login after the
password.
Todd

Page 135,137,139

On pages 135 and 137, the tables at the top of the page (From left to right: Subnet, Mask, Subnets, Hosts, Block) are incorrect in the Subnets column. It seems as though each number is listed as two less than it should be. For example: A subnet with mask 192 is listed as having only 2 available subnets, even though the block size is 64. As the author stated on page 136, "With a block size of 64, you can only have four networks, and so on, ..."

Response..

Yes, those tables were not updated in accordance with the ip subnet-zero
rule, so the 192 mask would provide four subnets, etc.

Number of subnets needs to be +2

Right now, they are 2, 6, 14, 30, 62…..please change to 4, 8, 16, 32 and 64.


This is for both the CCNA Study Guide, 5th Edition (0782143911) and CCNA Study Guide, Deluxe Edition (078214392X).

Page 155, Question 11

Which of the following IP addresses fall into the CIDR block of 110.68.4.0/22? (Choose three.)

A. 110.68.8.32
B. 110.68.7.64
C. 110.68.6.255
D. 110.68.3.254
E. 110.68.5.128
F. 110.68.12.128


Answer: B, C, E.
A Class A network address with a /22 is 255.255.252.0. The subnets in the third octet are 0, 4, 8, 12, etc. The network address in the question is 110.68.4.0, with a broadcast of 110.68.7.255, since the next subnet is 110.68.8.0. Answers B, C, and E are correct host IDs.

April 3, 2006

---

241
Page 241
On the last sentence of the second to the last paragraph of page 241 which reads: "Router Lab_A will only send packets to the 192.168.20.2 interface of Lab_A." should be "Router Lab_A will only send packets to the 192.168.20.2 interface of Lab_B." (last word word on this sentence should be changed from Lab_A to Lab_B).
2/22/07

---

10
517
Answers to Written Lab 10
The entire page is misprinted. The correct answers to Written Lab 10 are as follows:



access-list 10 deny 172.16.0.0 0.0.255.255 access-list 10 permit any
ip access-group 10 out
access-list 10 deny host 192.168.15.5 access-list 10 permit any
show access-lists
show running-config sh ip interface
access-list 110 deny tcp host 172.16.10.1 host 172.16.30.5 eq 23 access-list 110 permit ip any any
line vty 0 4 access-class 110 in
ip access-list standard No172Net deny 172.16.0.0 0.0.255.255 permit any
ip access-group No172Net out
show ip interfaces

5/29/07

---
In-depth coverage of every CCNA exam objective
Expanded IP addressing and subnetting coverage
More detailed information on EIGRP and OSPF
Leading-edge exam preparation software
Authoritative coverage of all exam objectives, including:

Network planning & designing
Implementation & operation
LAN and WAN troubleshooting
Communications technology