CCNA Virtual, Lab Titanium Edition 3.0 Downloadable Edition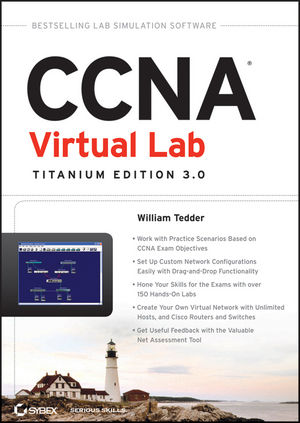 CCNA Virtual, Lab Titanium Edition 3.0 Downloadable Edition
ISBN: 978-1-118-53461-8
Oct 2012
Product not available for purchase
Description
The latest version of the leading Cisco network simulator software for the CCNA exams
This incredibly popular software is fully updated with labs on new Cisco technologies. It's organized by exam topic, so labs build on each other and you can use them in conjunction with Sybex's CCNA Study Guide, 7th Edition. Practice scenarios are mapped to the CCNA exam objectives. This virtual lab software uses the latest drag-and-drop technology to let you create your own simulated lab using an unlimited number of routers and switches, or you may follow any of 150 labs included in the software. It's a great way to study.
Hands-on practice with routers and switches is critical for CCNA exam success; with this software, you can create your own virtual lab and get that experience
Ideal for candidates preparing for either the Composite 640-802 or the individual ICND1 (640-822) and ICND2 (640-816) exams
Includes new labs using Traceroute, using Debug with a RIPv2 network, configuring and verifying a loopback interface, using ARP, configuring switch security, and verifying switch security
CCNA Virtual Lab, Titanium Edition 3.0 can save you the cost of establishing a virtual lab while it boosts your likelihood of exam success.
*Note that this is a software product, and not a PDF. Once purchased, customers will be emailed a link that will take them to the accounts Downloads page. There, they can download the product .ZIP file, which includes the executable file to install the software. In addition, the email will include an activation key allowing them to activate the software.
Section 1--Network Environment
Part 1--ICND1
Section 2--Cisco IOS
Section 3--IP Routing
Section 4--Managing a Cisco Internetwork
Section 5--Configuring the Catalyst Switch
Section 6--NAT
Part 2--ICND2
Section 7--RIP - IPv6
Section 8--Cisco Wide Area Networks (WAN)
Section 9--EIGRP
Section 10--OSPF
Section 11--Virtual LANs (VLANs)
Section 12--Access Lists
Section 13--NAT/PAT
Section 14--VLSM with Summarization