CCNP: Building Cisco MultiLayer Switched Networks Study Guide: Exam 642-811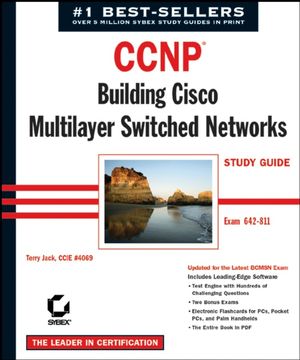 CCNP: Building Cisco MultiLayer Switched Networks Study Guide: Exam 642-811
ISBN: 978-0-782-15094-0
Feb 2006
561 pages
Product not available for purchase
Description
Here's the book you need to prepare for Cisco's Building Cisco Multilayer Switched Networks (BCMSN) exam, 642-811. This Study Guide provides:
In-depth coverage of key exam topics
Practical information on designing and implementing multilayer switched networks
Hundreds of challenging review questions
Leading-edge exam preparation software, including a test engine, and electronic flashcards
Authoritative coverage of all exam objectives, including:
Utilizing the Enterprise Composite Model for designing networks
Using the Switching Database Manager within a Catalyst switch
Operating managed VLAN services on a switched network
Configuring and verifying 802.1Q and ISL trunks
Configuring access ports for static and multi-VLAN membership
Increasing bandwidth for interswitch connections with Fast EtherChannel and Gigabit EtherChannel
Enabling Spanning Tree Protocol on ports and VLANs
Converting CatOS to native IOS on Catalyst switches
Implementing IP telephony in a switched network environment
Planning, configuring, and implementing QOS
Note: CD-ROM/DVD and other supplementary materials are not included as part of eBook file.
Introduction.
Assessment Test.
Chapter 1 The Campus Network.
Chapter 2 Connecting the Switch Block.
Chapter 3 VLANs, Trunks, and VTP.
Chapter 4 Layer 2 Switching and the Spanning Tree Protocol (STP).
Chapter 5 Using Spanning Tree with VLANs.
Chapter 6 Inter-VLAN Routing.
Chapter 7 Multilayer Switching (MLS).
Chapter 8 Understanding and Configuring Multicast Operation.
Chapter 9 Quality of Service (QoS).
Chapter 10 Catalyst Switch Technologies.
Appendix A Commands Used in This Book.
Appendix B Internet Multicast Addresses.
Appendix C The 2924 Switch Series Commands.
Glossary.
Index.
Chapter
Page
Details
Date
Print Run
Combined Errata


Page 42

#2 specifies an answer of "C" - the review answer should be "D" and not "C"

Page 151

4 lines down in the paragraph "just trust me and accept that the CISCO ISO demands that you enter a VLAN number at this time." should read "..CISCO IOS demands that.."

Page 186

regarding PAgP is incorrect please see http://www.cisco.com/univercd/cc/td/doc/product/lan/cat5000/rel_6_1/config/channel.htm#xtocid193284




---