CCNP: Building Scalable Cisco Internetworks Study Guide: Exam 642-801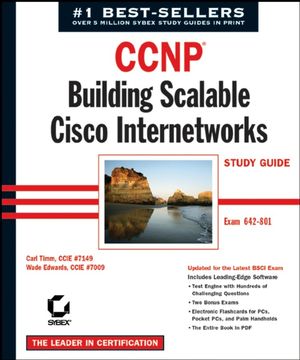 CCNP: Building Scalable Cisco Internetworks Study Guide: Exam 642-801
ISBN: 978-0-782-15095-7
Feb 2006
704 pages
Product not available for purchase
Description
Here's the book you need to prepare for Cisco's Building Scalable Cisco Internetworks (BSCI) exam, 642-801. This Study Guide provides:
In-depth coverage of key exam topics
Practical information on designing and implementing scalable Cisco internetworks
Hundreds of challenging review questions
Leading-edge exam preparation software, including a test engine, and electronic flashcards
Authoritative coverage of all exam objectives, including:
Using classful, classless, distance vector, and link state routing protocols
Using VLSM to extend IP addresses
Configuring EIGRP, OSPF, BGP, and IS-IS environments
Configuring and verifying router redistribution in a network
Configuring policy-based routing using route maps
Utilizing the three-layer hierarchical design model
Identifying IP addressing schemes, including features of IPv6
Verifying OSPF operation in a single and multiple areas
Ensuring proper operation of Integrated IS-IS on Cisco routers
Interpreting the output of various show and debug commands
Note: CD-ROM/DVD and other supplementary materials are not included as part of eBook file.
Introduction.
Assessment Test.
Chapter 1 Routing Principles.
Chapter 2 IP Addressing.
Chapter 3 Network Address Translation.
Chapter 4 IGRP and EIGRP.
Chapter 5 OSPF Operation in a Single Area.
Chapter 6 Interconnecting OSPF Areas.
Chapter 7 Integrated IS-IS.
Chapter 8 Border Gateway Protocol.
Chapter 9 Advanced Border Gateway Protocol.
Chapter 10 Route Optimization.
Chapter 11 Design Considerations.
Appendix A Commands in This Study Guide.
Appendix B Challenge Labs.
Glossary.
Index.
Chapter
Page
Details
Date
Print Run
Combined Errata


Page 76

Question 13 should state "(Choose all that apply)"

Page 108

Lab3.1 , step 2 should be :"ip nat inside source static."

Page 273

Question 19 - the correct answer should be B not A

Page 473

Syntax should be :

redistribute eigrp 100 metric 0 metric-type external level-2

but you wrote

redistribute eigrp 100 metric 0 external level 2

you left out the "metric-type" and level-2 should not be written as
level 2



---