CCSP: Secure Intrusion Detection and SAFE Implementation Study Guide: Exams 642-531 and 642-541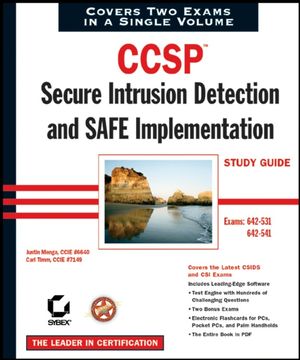 CCSP: Secure Intrusion Detection and SAFE Implementation Study Guide: Exams 642-531 and 642-541
ISBN: 978-0-782-15142-8
Feb 2006
725 pages
Product not available for purchase
Description
Here's the book you need to prepare for Cisco's Secure Intrusion Detection (CSIDS) and SAFE Implementation (CSI) exams. This Study Guide was developed to meet the exacting requirements of today's certification candidates. In addition to the focused and accessible instructional approach that has earned Sybex the "Best Study Guide" designation in the 2003 CertCities Readers Choice Awards, this two-in-one Study Guide provides:
Focused coverage on working with a Cisco Intrustion Detection System and SAFE Implemtation
Practical examples and insights drawn from real-world experience
Leading-edge exam preparation software, including the Sybex testing engine and electronic flashcards for your Palm
Authoritative coverage of all exam objectives, including:
Secure Intrusion Detection:
Designing a Cisco IDS protection solution
Installing and configuring a Cisco IDS Sensor
Tuning and customizing signatures to work optimally in specific environments
Performing device management of supported blocking devices
Performing maintenance operations
Monitoring a protection solution for small and medium networks
Managing a large scale deployment of Cisco IDS Sensors
SAFE Implementation
Security Fundamentals
Architectural Overview
Cisco Security Portfolio
SAFE Small Network Design
SAFE Medium Network Design
SAFE Remote-User Network Implementation
Note: CD-ROM/DVD and other supplementary materials are not included as part of eBook file.
Introduction.
Assessment Test.
Part I Cisco Secure Intrusion Detection System.
Chapter 1 Introduction to Intrusion Detection and Protection.
Chapter 2 Installing Cisco Secure IDS Sensors and IDSMs.
Chapter 3 Configuring the Network to Support Cisco Secure IDS Sensors.
Chapter 4 Configuring Cisco Secure IDS Sensors Using the IDS Device Manager.
Chapter 5 Configuring Signatures and Using the IDS Event Viewer.
Chapter 6 Enterprise Cisco Secure IDS Management.
Chapter 7 Enterprise Cisco Secure IDS Monitoring.
Part II Cisco SAFE Implementation.
Chapter 8 Security Fundamentals.
Chapter 9 The Cisco Security Portfolio.
Chapter 10 SAFE Small and Medium Network Designs.
Chapter 11 SAFE Remote Access Network Design.
Glossary.
Index.
Chapter
Page
Details
Date
Print Run
Combined Errata


Page 0CD

CH 2. Question#4 says the answer is "D" when it should be "C" int0 not int1




---