CCSP: Securing Cisco IOS Networks Study Guide: Exam 642-501 (SECUR)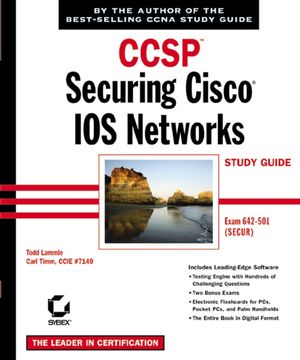 CCSP: Securing Cisco IOS Networks Study Guide: Exam 642-501 (SECUR)
ISBN: 978-0-782-14231-0
Jul 2003
434 pages
Product not available for purchase
Description
Here's the book you need to prepare for Exam 642-501, Securing Cisco IOS Networks (SECUR). This Study Guide provides:
In-depth coverage of every SECUR exam objective
Practical information on Cisco security solutions
Hundreds of challenging practice questions, in the book and on the CD
Leading-edge exam preparation software, including a testing engine, and electronic flashcards
Authoritative coverage of all exam objectives, including:
Basic Cisco Router Security
Advanced AAA Security for Cisco Router Networks
Cisco Router Threat Mitigation
Cisco IOS Firewall CBAC Configuration
Cisco IOS Firewall Authentication Proxy Configuration
Cisco IOS Firewall IDS Configuration
Building Basic IPSec Using Cisco Routers
Building Advanced IPSec VPNs Using Cisco Routers and Certificate Authorities
Configuring Cisco Remote Access IPSec VPNs
Managing Enterprise VPN Routers
Note: CD-ROM/DVD and other supplementary materials are not included as part of eBook file.
Introduction.
Assessment Test.
Chapter 1: Introduction to Network Security.
Chapter 2: Introduction to AAA Security.
Chapter 3: Configuring CiscoSecure ACS and TACACS+.
Chapter 4: Cisco Perimeter Router Problems and Solutions.
Chapter 5: Context-Based Access Control Configuration.
Chapter 6: Cisco IOS Firewall Authentication and Intrusion Detection.
Chapter 7: Understanding Cisco IOS IPSec Support.
Chapter 8: Cisco IOS IPSec Pre-Shared Keys and Certificate Authority Support.
Chapter 9: Cisco IOS Remote Access Using Cisco Easy VPN.
Appendix A: Introduction to the PIX Firewall.
Glossary.
Index.
Chapter
Page
Details
Date
Print Run
Combined Errata


Page 52

Table 2.4, The same command "aaa accounting system" is listed twice with two different descriptions.
Remove the first entry listed on page 52, but the entry needs to replace the
system explanation second from last.

Page 138

Question 13 answers B & E should be "no service tcp-small-servers"and "no service udp-small-servers"

Page 142

Answers to Written Lab 4 should be "no service tcp-small-servers"and "no service udp-small-servers"

Page 189

4th line of commands, see detailed description
Lab_B(config-if)#ip auth-proxy name toddlock

should be:
Lab_B(config-if)#ip auth-proxy toddlock

Explanation:
The "name" is not part of the command.

Page 295

Explanation for written question 8 should be: Authorization servers cannot be used to authenticate users remotely

Page 301

Additional objective covered in Chapter 9 - Add to the end of the list: Managing Enterprise VPN Routers




---