CD and DVD Recording For Dummies, 2nd Edition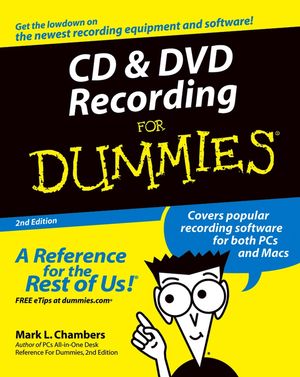 CD and DVD Recording For Dummies, 2nd Edition
ISBN: 978-0-764-55956-3
Mar 2004
360 pages
Description
Most new PCs and Macs today are equipped with the latest in recording and storage equipment: CD-RW and DVD-R/RW drives. Even if your computer is a little older, you can still join the revolution with add-on hardware and software. You can record music and movies, store photos and data, and organize things you want to preserve for posterity, safely and easily.

CD and DVD Recording For Dummies®, Second Edition, takes the frustration out of choosing and using these cool recording systems. This easy-to-follow guide will help you find what you need and use it efficiently, and it covers all the newest equipment. You'll discover how to
Choose and install a CD or DVD recorder
Pick the best software for your needs
Store large data files safely on CD
Use EasyCD and DVD Creator and Toast
Record mixed media disks
Create electronic photo albums, baby books, genealogies, and more
Once upon a time, videotape, vinyl record albums, and floppy disks were state of the art for preserving movies, music, and data. The superior durability and capacity of CDs and DVDs have made these tools as obsolete as the washboard, but never fear. CD and DVD Recording For Dummies®, Second Edition, makes it easy to
Transfer your favorite VHS movies to DVD
Preserve those classic LPs on CD
Archive records and data files, and safely store treasured family photos
Ask the right questions when shopping for CD or DVD recording hardware and software
Record original material, copy and erase rewriteable disks, and make backups of important data
Add menus to your disks, label them, and care for them properly
Record a bootable CD-ROM
Today's CD and DVD recorders can produce everything from superb sound quality to original movies you can play on your DVD player. CD and DVD Recording For Dummies® will get your recording career going in a jiffy.
Introduction.
Part I: Shake Hands with Your Recorder!
Chapter 1: Optical Storage: It's All in the Pits.
Chapter 2: Buying Your Recording Beast.
Chapter 3: DVD Is the Cat's Meow.
Chapter 4: Poof! You're a Computer Technician.
Part II: It's All in the Preparation.
Chapter 5: Letting Loose the Software Elves.
Chapter 6: Fine-Tuning Can Be Fun.
Chapter 7: Getting Ready for the Ball.
Part III: Hang On — Here We Go!
Chapter 8: Taking Easy CD & DVD Creator for a Spin.
Chapter 9: A Step-by-Step Guide to . . . Toast?
Chapter 10: Using Drag-to-Disc: Avoid the Hassle!
Part IV: So, You're Ready to Tackle Tougher Stuff?
Chapter 11: Heavy-Duty Recording.
Chapter 12: BAM! Add Menus to Your Discs!
Chapter 13: Storing Megastuff with DVD.
Chapter 14: Adding That Spiffy Touch.
Part V: The Part of Tens.
Chapter 15: Ten Hardware Troubleshooting Tips.
Chapter 16: Ten Software Troubleshooting Tips.
Chapter 17: Ten Things to Avoid Like the Plague.
Chapter 18: Ten Nifty Programs You Want.
Part VI: Appendixes.
Appendix A: Recorder Hardware and Software Manufacturers.
Appendix B: Glossary.
Index.