CEO Capital: A Guide to Building CEO Reputation and Company Success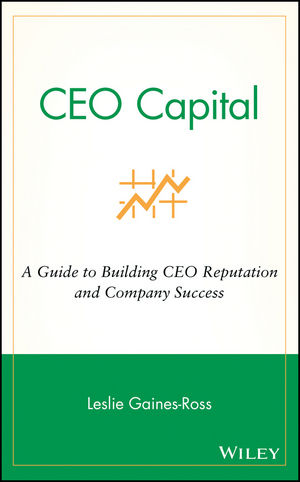 CEO Capital: A Guide to Building CEO Reputation and Company Success
ISBN: 978-0-471-26807-9
Dec 2002
288 pages
Product not available for purchase
Description
The reputations of CEOs and the companies they lead are deeply and inextricably linked. The manner in which the media, investors, analysts, employees, and even the general public perceive a chief executive has tremendous influence over the company's prosperity, standing, and destiny.

In CEO Capital, Dr. Gaines-Ross describes in practical terms the strategies to follow--and the obstacles to avoid--so that CEOs can enhance the reputation of their company during the five stages of their tenure.

CEO Capital is the only book that provides these guidelines and isolates best practices for CEOs as they navigate their way through their first 100 days to their last 100 hours.

About the author: Dr. Leslie Gaines-Ross is chief knowledge and research officer at Burson-Marsteller, a leading global communications consultancy with more than 1,600 employees worldwide. Previously, she served as Fortune's communications and marketing director.
Preface.
Acknowledgments.
PART I: CEO CAPITAL.
Chapter 1. The CEO Effect.
Chapter 2. CEO Reputation: A Capital Investment.
Chapter 3. How CEO Capital Is Built.
PART II: BUILDING CEO CAPITAL.
Chapter 4. The Countdown: Beware the Two-Headed Monster.
Chapter 5. The First Hundred Days: CEOs under the Magnifying Glass.
Chapter 6. The First Year: From Pupil to CEO Persona.
Chapter 7. The Turning Point: Leading through Thought.
Chapter 8. Revision and Reinvention: Recasting through Succession, Leaving a Legacy.
PART III: IMPLICATIONS FOR CEOS.
Chapter 9. Over the Horizon: Future Trends and Suggestions.
Notes.
Index.
"This is an excellent book of dos and don'ts for CEOs, potential CEOs and especially for the PR people who must help them get their message out to their various publics." (Public Relations Quarterly, Summer 2003)