CFDs For Dummies, Australian Edition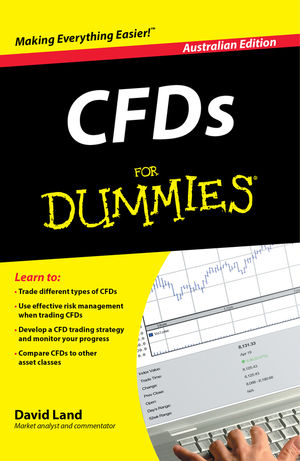 CFDs For Dummies, Australian Edition
ISBN: 978-1-742-46841-9
Jul 2010
192 pages
Product not available for purchase
Description
Created especially for the Australian customer!
Take advantage of the bestfeatures of these versatilederivatives
CFDs enable you to have control over a wide variety of financial products for just a fraction of their underlying value. But with their potential for higher return also comes higher risk. CFDs For Dummies gives you clear advice on how to make the most of these exciting products — while managing your risk at all times.
Diversify your portfolio and increase your trading opportunities — trade across various financial instruments, including shares, foreign exchange, indices and commodities, within Australia and internationally

Use stop loss orders and position sizing — manage your risk by knowing how much you stand to lose if you get a trade wrong, before you even open it

Develop your trading strategy — analyse your trading behaviour, develop a trading plan and track your progress

Work out short- and longer-term trading strategies — hold your positions open for only a few hours, or over several months

Take advantage of short selling strategies — make profits in a falling market, or hedge your overall portfolio against short-term losses
Open the book and find:
How much to leverage your trading account

How to manage trading across different time zones — and get some sleep!

Strategies to invest in commodity CFDs such as oil CFDs and gold CFDs

Ways announcements and news releases can affect prices — and how you can manage this through your trading strategy

How technical analysis can help you identify trading opportunities

Whether you really need to spend a lot of money on your charting software
Introduction.
Part I: Getting Started.
Chapter 1: Deciding Whether CFD Trading Is For You.
Chapter 2: Setting Yourself Up for Success.
Chapter 3: Making the Most of CFD Trading.
Part II: Touring the CFD Marketplace.
Chapter 4: Exploring Share CFDs.
Chapter 5: Taking on the World of Foreign Exchange.
Chapter 6: Following the Big Guns: Index CFDs.
Chapter 7: Venturing into Commodities and Interest Rate Products.
Part III: Keeping Risk Under Control.
Chapter 8: Managing Risk Is Your Key to Trading Survival .
Chapter 9: Position Sizing.
Part IV: Trading Strategies.
Chapter 10: Making Informed Decisions Based on the Economy.
Chapter 11: Understanding Trading Methods.
Chapter 12: Taking Lessons from Hedge Funds.
Chapter 13: Ah! Technical Analysis.
Chapter 14: Charting CFDs with Software.
Part V: Knowing Where You're Going.
Chapter 15: Analysing Your Trading Behaviour.
Chapter 16: Developing a Trading Plan.
Chapter 17: Tracking Your Progress.
Part VI: The Part of Tens.
Chapter 18: Ten Common Mistakes Beginners Make When Trading CFDs.
Chapter 19: Ten Lessons for Dealing with Leverage.
Chapter 20: Ten Ways to Plan Your Trades.
Glossary.
Index.