CFO Survival Guide: Plotting the Course to Financial Leadership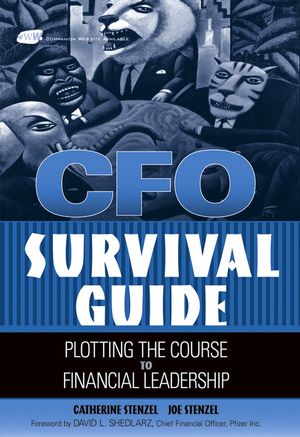 CFO Survival Guide: Plotting the Course to Financial Leadership
ISBN: 978-0-471-26914-4
Feb 2004
336 pages
Product not available for purchase
Description
Praise for the CFO Survival Guide
"The CFO Survival Guide is a bold, insightful account of the subtle yet powerful interdependencies connecting human values, beliefs, and behaviors to the work performed by people and the wealth this work creates. The Guide's Declaration of Interdependence will challenge aspiring CFOs and corporate leaders to reexamine their understanding of how wealth is created, sustained, and managed in the twenty-first century, and what effect their roles have on wealth-creation and the evolution of the living organizations they lead."
-Charles S. Royer
SAS Institute, Public Sector-Federal Government Strategic Solutions
Major, U.S. Marine Corps (1990-2003)
"Stenzel and Stenzel shatter the myth that financial leadership is about money and numbers. They prove that to create wealth, a great CFO must be quantitatively savvy, emotionally intelligent, and inspirational."
-Richard E. Boyatzis
Professor of Organizational Behavior at Case Western Reserve University
Coauthor with Daniel Goleman and Annie McKee of the international bestseller Primal Leadership: Realizing the Power of Emotional Intelligence
"More important to creating a robust bottom line is to build and nurture relationships with employees, customers, suppliers, community, and nature. Catherine and Joe Stenzel give CFOs a much-needed wake-up call."
-H. Thomas Johnson
2001 Shingo Laureate
Professor of Business Administration, Portland State University
"Not your usual CFO portrayal. The Stenzels create a compelling argument for why and how putting CFOs in touch with people is central to organizational success."
-Paul Sharman
President, Focused Management, Inc.
Foreword.
Preface: Being the One Who Counts.
Acknowledgments.
Executive Summary.
About the Web Site.
Chapter 1. The Profession and the Reality.
An Account of the Profession.
Who We Are.
Who We Are Becoming.
Being the One Who Counts: Underlying Assumptions.
Accountability Requires Maturity.
Transparency, Learning, and Meaning.
Numerical Realities and Other Oxymorons.
Cost, Spending, and Other Inequalities.
Value Anyone?
Notes.
Chapter 2. Development: The Science of Becoming.
The Science of Becoming.
Development Essentials.
Moral Development.
Psychosocial Development.
The Natural Human Maturity Sequence: Learn, Experience, Develop.
Learn Skills.
Experiential Knowledge.
CFO Technical Skill and Management Experience Assessment.
Notes.
Chapter 3. In the Company of the CFO: Maturity, Leadership Competency Development, and Workplace Applications.
CFO Maturity—Essence and Function.
Developing Professional Maturity and Leadership Competencies.
Applying Awareness: Self-Management and Relationship Management.
Leadership Competencies—Finding Them and Keeping Them.
People, Their Organizations, and Their Work Environments.
In the Heart of the Helix.
Notes.
Chapter 4. Working with the Accounting/Finance Function.
Forging Functional Identity.
Replace Yourself.
Assessing Current Conditions.
A Guide to the AFF Readiness Diagnostic.
Using the Diagnostic.
General Business: Process Improvement.
General Business: Performance Measurement and Management.
Cost Management: Cost Accounting System.
Financial Accounting: Month-End Close and Income Statement.
Triple Helix and Psychosocial Development at Work in the AFF.
Running the AFF.
Notes.
Chapter 5. Working Governance: Leadership Maturity in Action.
Corporate History Cliff Notes.
Olympian Executives.
Governance.
The Five Interdependent Governance Alliances.
Assessing Organizational Governance Maturity.
First Governance Alliance: The CEO-CFO.
The Second Governance Alliance: The CFO and Executive Counsel.
Degrees of Separation: The Third, Fourth, and Fifth Governance Alliances.
Notes.
Chapter 6. Working.
The CFO at Large.
Sustainability in Natural Systems.
Enter the CFO: Step One to a Democratic Workplace.
Work in Process—Steps Two and Three Toward a Democratic Workplace.
Workforce Readiness.
CFO, Gatekeeper of the Public Good: The Fourth Step to a Democratic Workplace.
The Representative CFO in the Democratic Workplace—Step Five.
Wealth Distribution: Steps Six and Seven in the Democratic Workplace.
Survival Patterns.
Notes.
Index.