CISSP: Certified Information Systems Security Professional Study Guide, 6th Edition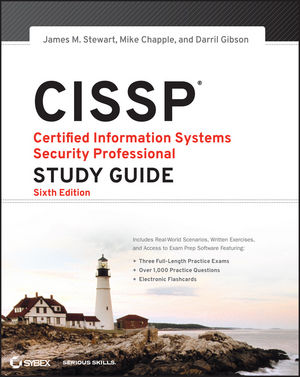 CISSP: Certified Information Systems Security Professional Study Guide, 6th Edition
ISBN: 978-1-118-31417-3
Jul 2012
936 pages
Description
Fully updated Sybex Study Guide for the industry-leading security certification: CISSP
Security professionals consider the Certified Information Systems Security Professional (CISSP) to be the most desired certification to achieve. More than 200,000 have taken the exam, and there are more than 70,000 CISSPs worldwide. This highly respected guide is updated to cover changes made to the CISSP Body of Knowledge in 2012. It also provides additional advice on how to pass each section of the exam. With expanded coverage of key areas, it also includes a full-length, 250-question practice exam.
Fully updated for the 2012 CISSP Body of Knowledge, the industry-leading standard for IT professionals

Thoroughly covers exam topics, including access control, application development security, business continuity and disaster recovery planning, cryptography, operations security, and physical (environmental) security

Examines information security governance and risk management, legal regulations, investigations and compliance, and telecommunications and network security

Features expanded coverage of biometrics, auditing and accountability, software security testing, and many more key topics
CISSP: Certified Information Systems Security Professional Study Guide, 6th Edition prepares you with both the knowledge and the confidence to pass the CISSP exam.
Introduction xxxv
Assessment Test xliv
Chapter 1 Access Control 1
Chapter 2 Access Control Attacks and Monitoring 47
Chapter 3 Secure Network Architecture and Securing Network Components 87
Chapter 4 Secure Communications and Network Attacks 151
Chapter 5 Security Governance Concepts, Principles, and Policies 205
Chapter 6 Risk and Personnel Management 239
Chapter 7 Software Development Security 275
Chapter 8 Malicious Code and Application Attacks 327
Chapter 9 Cryptography and Symmetric Key Algorithms 361
Chapter 10 PKI and Cryptographic Applications 403
Chapter 11 Principles of Security Models, Design, and Capabilities 437
Chapter 12 Security Architecture Vulnerabilities, Threats, and Countermeasures 477
Chapter 13 Security Operations 531
Chapter 14 Incident Management 571
Chapter 15 Business Continuity Planning 617
Chapter 16 Disaster Recovery Planning 643
Chapter 17 Laws, Regulations, and Compliance 681
Chapter 18 Incidents and Ethics 713
Chapter 19 Physical Security Requirements 745
Appendix A Answers to Review Questions 781
Appendix B Answers to Written Labs 815
Appendix C About the Additional Study Tools 829
Index 833
Click the "Register or Login Now" link below to register or login

Thank you for your interest in this Sybex product. This downloadable product includes the practice exams, flashcards and glossary of terms. To access the free downloadable files, please login or register by clicking the following URL. You'll proceed to the login/registration screen.
Register or Login Now
After you have registered and downloaded your Sybex product's zip file, follow these steps:

Unzip the downloaded file on your Windows computer.
** Note that the interface will not function properly unless you first unzip the file.
Click on start.exe to open the interface.
Read through the license agreement, and then click the Accept button to browse the contents.
If you experience trouble with the start.exe file or interface, please refer to the product ReadMe.txt file.