CISSP For Dummies, 4th Edition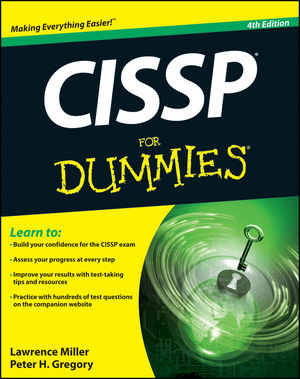 Description
A fully updated guide to CISSP certification
CISSP certification is the most prestigious and highly valued of the security certifications. This is the book you need to approach the exam with confidence and become CISSP certified! The CISSP Body of Knowledge underwent many changes in 2012, and this book covers them all. With a down-to-earth approach, it provides all the information covered in the exam plus numerous self-assessment tools, Quick Assessment and Prep tests to give you practice, a sample exam, and hundreds of randomly generated review questions on the Dummies Test Engine, available on the companion website.
The coveted CISSP certification is the most prestigious of the security certifications; this popular guide covers all the latest updates to prepare you for the exam
Includes various self-assessment tools to help you gauge your progress, including Quick Assessment tests at the beginning of every chapter, a Prep Test at the end of every chapter, a sample exam, and hundreds of randomly generated test questions
Features the popular Dummies Test Engine on the companion website
Offers test-taking tips and plenty of resources for further study
CISSP For Dummies, 4th Edition gives you the tools to take the CISSP exam with confidence and earn your certification!
Introduction  1
Part I: Certification Basics  7
Chapter 1: (ISC)2 and the CISSP Certifi cation 9
Chapter 2: The Common Body of Knowledge (CBK) 19
Chapter 3: Putting Your Certifi cation to Good Use 27
Part II: Domains  45
Chapter 4: Access Control 47
Chapter 5: Telecommunications and Network Security 89
Chapter 6: Information Security Governance and Risk Management 153
Chapter 7: Software Development Security 181
Chapter 8: Cryptography 233
Chapter 9: Security Architecture and Design 269
Chapter 10: Security Operations 301
Chapter 11: Business Continuity and Disaster Recovery Planning 333
Chapter 12: Legal, Regulations, Investigations, and Compliance 371
Chapter 13: Physical (Environmental) Security 413
Part III: The Part of Tens  439
Chapter 14: Ten (Okay, Eight) Test Preparation Tips 441
Chapter 15: Ten Test-Day Tips 445
Chapter 16: Ten More Sources for Security Certifications 449
Chapter 17: Ten Security Websites 461
Chapter 18: Ten Essential Reference Books 465
Part IV: Appendixes  467
Appendix A: Practice CISSP Exam469
Appendix B: Glossary 529
Index
Click the "Register or Login Now" link below to register or login
Thank you for your interest in this product.

To access the free downloadable files, please login or register by clicking the following URL. You'll proceed to the login/registration screen.

Register or Login Now

After you have registered and downloaded your For Dummies product's zip file, follow these steps:

Unzip the downloaded file on your Windows computer.
** Note that the interface will not function properly unless you first unzip the file.
Click on start.exe to open the interface.
Read through the license agreement, and then click the Accept button to browse the contents.
If you experience trouble with the start.exe file or interface, please refer to the product ReadMe.txt file.