CIW Internetworking Professional Study Guide: Exam 1D0-460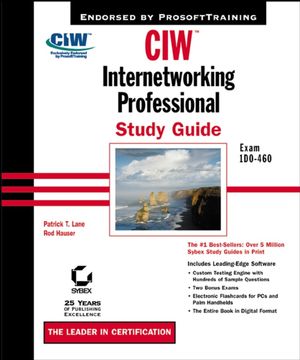 CIW Internetworking Professional Study Guide: Exam 1D0-460
ISBN: 978-0-782-15266-1
Feb 2006
573 pages
Product not available for purchase
Description
Here's the book you need to prepare for Exam 1D0-460, CIW Internetworking Professional.
This Study Guide provides:
In-depth coverage of official exam objectives
Practical information on internetworking technologies
Hundreds of challenging review questions, in the book and on the CD
Leading-edge exam preparation software, including a testing engine and electronic flashcards
Authoritative coverage of all exam topics, including:
Defining the Internet infrastructure and key internetworking protocols
Understanding routing processes
Working with application layer protocols--HTTP, FTP, SMTP, and SNMP
Analyzing BOOTP and the DHCP servers and clients
Using exterior protocols and gateways
Working with network troubleshooting tools
Comparing and contrasting IPv4 and IPv6
Note: CD-ROM/DVD and other supplementary materials are not included as part of eBook file.
Introduction.
Assessment Test.
Chapter 1: The Internet and TCP/IP.
Chapter 2: The OSI Logical and Network Access Layers.
Chapter 3: Subnetting and Routing.
Chapter 4: Transport Layer.
Chapter 5: Domain Name System.
Chapter 6: Troubleshooting TCP/IP.
Chapter 7: Network Management Essentials.
Chapter 8: The Management Information Base and Enterprise SNMP.
Chapter 9: IPv6ÑInternals and IPv4 Comparison.
Chapter 10: IPv6 Address Architecture, Routing, and Security.
Chapter 11: Migrating to IPv6.
Glossary.
Index.