CIW Server Administration Study Guide: Exam 1D0-450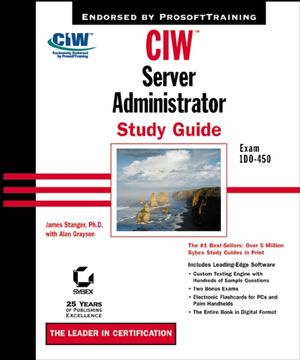 CIW Server Administration Study Guide: Exam 1D0-450
ISBN: 978-0-782-15206-7
Feb 2006
763 pages
Product not available for purchase
Description
Here's the book you need to prepare for Exam 1D0-450, CIW Server Administrator.
This Study Guide provides:
In-depth coverage of official exam objective groups
Practical information on managing
Hundreds of challenging review questions, in the book and on the CD
Leading-edge exam preparation software, including a testing engine and electronic flashcards
Authoritative coverage of all exam topics, including:
Creating password policies and permissions
Implementing the Domain Name System (DNS)
Selecting and implementing popular web servers
Performing Secure Sockets Layer (SSL) transactions
Analyzing server and service logs
Evaluating system performance
Configuring and managing news servers and e-mail servers
Note: CD-ROM/DVD and other supplementary materials are not included as part of eBook file.
Introduction.
Assessment Test.
Part I: Internet System Management.
Chapter 1: IT Systems and Services Overview.
Chapter 2: Internet System Installation and Configuration Issues.
Chapter 3: Configuring TCP/IP on Internet Servers.
Chapter 4: User Management Essentials.
Chapter 5: Managing Users in Windows 2000 Server.
Chapter 6: Managing Users in Linux.
Chapter 7: Name Resolution in LANs with DNS.
Chapter 8: Name Resolution with WINS and Samba.
Chapter 9: Implementing Internet Services.
Part II: Advanced Internet System Management.
Chapter 10: Mission-Critical Services.
Chapter 11: Installing, Configuring, and Integrating a Web Server.
Chapter 12: Enabling Secure Sockets Layer.
Chapter 13: Configuring and Connecting to News and E-mail Servers.
Chapter 14: Logging Activity.
Chapter 15: Monitoring and Optimizing Internet Servers.
Chapter 16: Fault Tolerance and System Backup.
Chapter 17: Proxy Servers and Security Overview.
Glossary.
Index.