CRM Unplugged: Releasing CRM's Strategic Value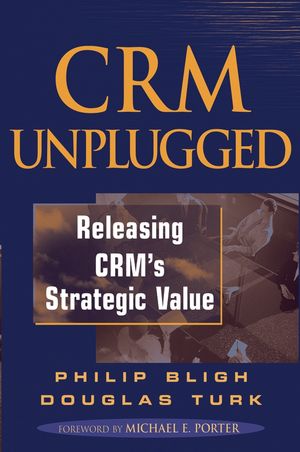 CRM Unplugged: Releasing CRM's Strategic Value
ISBN: 978-0-471-66383-6
May 2004
208 pages
Product not available for purchase
Description
Building and maintaining a customer-centered enterprise cost-effectively is a hot topic and key business issue. This book provides the definitive work on how to derive return from investment. It shows readers strategies for successful CRM implementation into a company, and how to achieve a good ROI through CRM, and also details best practices.
Foreword.
Preface.
Acknowledgments.
1. A New, More Strategic Approach to CRM.
Industry Leaders Show the Way.
A Clearer Definition of CRM Is Required.
Three Lessons from Leaders.
Key Points.
2. A Review of CRM Failures.
What Went Wrong with CRM.
CRM Contributes to a Scary Halloween for Hershey.
Why CRM Projects Fail.
Key Points.
3. Strategy First: Aligning CRM with Company Strategy.
Using an Analytical Framework for Defining Strategy.
Distinguishing Competitive Advantage from Other Types of Benefits.
How Competitive Advantage Manifests Itself in Operations.
Identify CRM Initiatives That Fortify Competitive Advantage.
Key Points.
4. Customer Intelligence: The Science of Customer Insight.
How Harrah's Used Customer Insight to Turn the Tables on the Gaming Industry.
Seven Dimensions of Customer Insight.
Define a Scientific Process for Leveraging Customer Insight.
Building Blocks Required to Implement a Customer Insight Infrastructure.
Key Points.
5. Demand Visibility and Response.
Demand Visibility.
Best Practices for Increased Visibility.
Responding to Market Demand.
Best Practices for Demand Responsiveness.
Science of Revenue Management.
Power of Pricing.
Key Points.
6. An Enterprise-Wide Approach to CRM.
What Is Customer Strategy and How Does It Help?
How Customer Strategy Relates to Corporate and Functional Strategy.
Key Components of an Effective Customer Strategy.
Enterprise Marketing Management: How Customer Strategy Integrates with Marketing Strategy.
Key Points.
7. Implementing CRM Successfully.
Implementation Guidelines for Success.
Key Points.
Epilogue: The Future of CRM.
New Marketing Approaches.
Understanding Financial Metrics Related to Customers.
New Management Approaches Based on Predictive Analysis.
Continuous Optimization of Operations.
Leveraging Emerging and Specialized Technologies.
Harnessing the Benefits of Outsourcing.
Index.