CVD Diamond for Electronic Devices and Sensors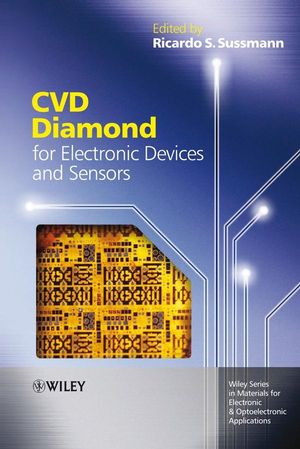 CVD Diamond for Electronic Devices and Sensors
ISBN: 978-0-470-06532-7
Mar 2009
596 pages
Description
Synthetic diamond is diamond produced by using chemical or physical processes. Like naturally occurring diamond it is composed of a three-dimensional carbon crystal. Due to its extreme physical properties, synthetic diamond is used in many industrial applications, such as drill bits and scratch-proof coatings, and has the potential to be used in many new application areas

A brand new title from the respected Wiley Materials for Electronic and Optoelectronic Applications series, this title is the most up-to-date resource for diamond specialists. Beginning with an introduction to the properties of diamond, defects, impurities and the growth of CVD diamond with its imminent commercial impact, the remainder of the book comprises six sections: introduction, radiation sensors, active electronic devices, biosensors, MEMs and electrochemistry. Subsequent chapters cover the diverse areas in which diamond applications are having an impact including electronics, sensors and actuators and medicine.
Buy Both and Save 25%!
Original Price:$522.00
Purchased together:$391.50
save $130.50
Cannot be combined with any other offers.
Series Preface xi
Preface xiii
List of Contributors xxi
Basic Properties, Defects and Impurities, Surface properties and Synthesis
1 Basic Properties of Diamond: Phonon Spectra, Thermal Properties, Band Structure 3
Gordon Davies
2 Transport Properties of Electrons and Holes in Diamond 29
Jan Isberg
3 Point Defects, Impurities and Doping 49
Alison Mainwood
4 Surface Conductivity of Diamond 69
Lothar Ley
5 Recent Progress in the Understanding of CVD Growth of Diamond 103
J.E. Butler, A. Cheesman and M. N. R. Ashfold
6 Heteroepitaxial Growth 125
M. Schreck
Radiation Sensors
7 Detectors for UV and Far UV Radiation 165
Alan T. Collins
8 Diamond Radiation Sensors for Radiotherapy 185
Mara Bruzzi
9 Radiation Sensors for High Energy Physics Experiments 207
H. Kagan and W. Trischuk
10 CVD-Diamond Detectors for Experiments with Hadrons, Nuclei, and Atoms 227
E. Berdermann and M. Ciobanu
11 Neutron Detectors 257
G. Verona-Rinati
Active Electronic Devices
12 High-Power Switching Devices 277
Jan Isberg
13 H-Terminated Diamond Field-Effect Transistors 289
Makoto Kasu
14 Doped Diamond Electron Devices 313
E. Kohn and A. Denisenko
15 Optoelectronic Devices Using Homoepitaxial Diamond p –n and p –i –n Junctions 379
Toshiharu Makino and Hiromitsu Kato
Electrochemical and Biological Sensors
16 Biofunctionalization of Diamond Surfaces: Fundamentals and Applications 401
J. A. Garrido
17 Diamond Electrochemical Sensors 439
John S. Foord
Micro-Electro-Mechanical Systems
18 CVD Diamond MEMS 469
J. Kusterer and E. Kohn
Superconductivity in CVD Diamond
19 Superconductivity in Diamond 549
Yoshihiko Takano
Index 563