CWDP Certified Wireless Design Professional Official Study Guide: Exam PW0-250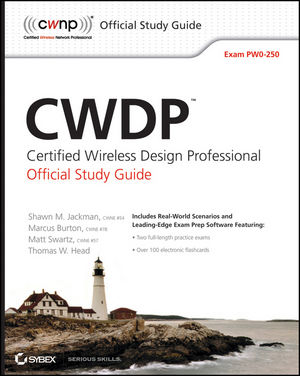 CWDP Certified Wireless Design Professional Official Study Guide: Exam PW0-250
ISBN: 978-1-118-04161-1
Feb 2011
864 pages
Description
The official study guide for the Certified Wireless Design Professional (CWDP) exam from CWNP!
This official guide is what you need to prepare for the vendor-neutral CWDP exam (PW0-250), which tests an IT professional's ability to design, plan, and troubleshoot a wireless network. Administered by CWNP, the industry leader for enterprise Wi-Fi training and certification, the CWDP exam is for those operating in large WLAN deployments. This practical guide not only covers all exam objectives, it also gives you practical information on designing for complex environments such as businesses, hospitals, educational facilities, and in outdoor spaces. 
Covers all exam objectives for the Certified Wireless Design Professional (CWDP) exam, exam PW0-250
Covers planning, developing a WLAN design strategy and RF, conducting advanced site surveying, developing 802.11 security, and troubleshooting
Companion CD includes two practice exams and over 100 electronic flashcards
Sybex is the official publisher for Certified Wireless Network Professional, Inc., the certifying vendor for the CWAP program
If you want to prepare for CWNP certification, a  Sybex Study Guide is what you need!
Note: CD-ROM materials for eBook purchases can be downloaded from http://booksupport.wiley.com.
Foreword.
Introduction.
Chapter 1 Gathering and Analyzing Requirements.
Chapter 2 Designing for Client Devices and Applications.
Chapter 3 Designing for Applications.
Chapter 4 Industry-Specific Design Considerations.
Chapter 5 Vendor and WLAN Architecture Selection.
Chapter 6 RF Communication Principles.
Chapter 7 RF Hardware and 802.11n.
Chapter 8 Site Survey Preparation.
Chapter 9 Site Survey RF Design.
Chapter 10 MAC Layer Design.
Chapter 11 Basic WLAN Security Design.
Chapter 12 Advanced Enterprise WLAN Security Design.
Chapter 13 Documentation and Finalizing the Design Solution.
Chapter 14 Post-Installation Validation.
Chapter 15 Design Troubleshooting.
Appendix About the Companion CD.
Glossary.
Index.