Cabling: The Complete Guide to Copper and Fiber-Optic Networking, 4th Edition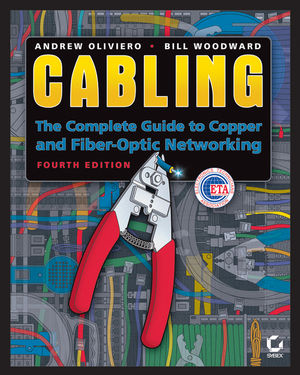 Cabling: The Complete Guide to Copper and Fiber-Optic Networking, 4th Edition
ISBN: 978-0-470-47707-6
Jul 2009
1144 pages
Product not available for purchase
Description
Two books in one! Complete coverage of data cabling and fiber optics makes this the most comprehensive cabling book on the market

With the growing demand for fiber optics in large-scale communications networks, network professionals need complete, up-to-the-minute information. The fourth edition of this popular guide provides you with the latest on copper and fiber-optic networking. It is particularly useful for those studying for the Fiber Optics Installer or Fiber Optics Technician certifications.

Part I covers the basics of cabling, while Part II is devoted to in-depth information on fiber optics, allowing you to stay up to speed on all aspects of the field.
Demonstrates how to work with all of the various types of cables-from those used to network desktops to hubs and switches up to those used by major telecommunications carriers
Appeals to anyone who plans, builds, and maintains a network
Offers a solid foundation in fiber optics
As the industry transitions from copper cabling to fiber optics, Cabling: The Complete Guide to Copper and Fiber-Optic Networking, Fourth Edition is a vital tool for network administrators and technicians.
1. Introduction to Data Cabling.
2. Cabling Specifications and Standards.
3. Choosing the Correct Cabling.
4. Cable System and Infrastructure Constraints.
5. Cabling System Components.
6. Tools of the Trade.
7. Copper Cable Media.
8. Fiber-Optic Media.
9. Wall Plates.
10. Connectors.
11. Transmission Equipment.
12. Ubounded (Wireless) Media.
13. Cabling-System Design and Installation.
14. Cable-Connector Installation.
15. Cable-System Testing and Troubleshooting.
16. Creating a Request for Proposal.
17. Cabling @ Work: Experience from the Field.
18. History of Fiber Optics.
19. Principles of Fiber Optic Transmission.
20. Basic Principles of Light.
21. Optical Fiber Construction and Theory.
22. Optical Fiber Characteristics.
23. Safety.
24. Fiber Optic Cables.
25. Splicing.
26. Connectors.
27. Fiber Optic Light Sources.
28. Fiber Optic Detectors and Receivers.
29. Passive Components and Multiplexers.
30. Passive Optical Networks (PON).
31. Cable Installation and Hardware.
32. Fiber Optic System Design Considerations.
33. Test equipment and Link/Cable Testing.
34. Troubleshooting and Restoration.