Cage Aquaculture, 3rd Edition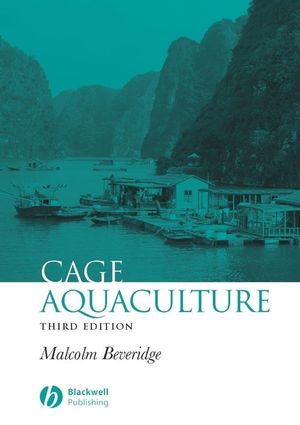 Cage Aquaculture, 3rd Edition
ISBN: 978-1-405-14802-3 April 2008 Wiley-Blackwell 376 Pages
Download Product Flyer
Download Product Flyer
Download Product Flyer is to download PDF in new tab. This is a dummy description. Download Product Flyer is to download PDF in new tab. This is a dummy description. Download Product Flyer is to download PDF in new tab. This is a dummy description. Download Product Flyer is to download PDF in new tab. This is a dummy description.
Description
Since the first edition of this book, 17 years ago, aquaculture has consolidated its position as an important means of producing food and as a contributor to global food security. Cage aquaculture too has continued to expand apace. The third edition of this important, useful and well-received book maintains the original aim of providing a thorough synthesis of information on cages and cage aquaculture practices with data and examples encompassing all major world regions.
Fully updated, the book's comprehensive contents include details of the origin and principles of cage aquaculture and an overview of its current position. Contents of the chapters following include key information on cage design and construction, site selection, environmental impacts and environmental capacity, management, and potential problems in cage aquaculture systems. A comprehensive reference list and index are included to help readers.

The volume is essential reading for all personnel involved in fish and shellfish farms that use cages, and for all those embarking on a career in aquaculture. Cage manufacturers and others supplying the aquaculture trade will find much of commercial use within the book. All those involved in aquaculture research and equipment design should have a copy of this most useful book. All libraries in universities and research establishments where aquaculture, environmental science, aquatic science, fish biology and fisheries are studied and taught should have several copies on their shelves.
Table of contents
PREFACE.
ACKNOWLEDGEMENTS.
1 CAGE AQUACULTURE - ORIGINS AND PRINCIPLES.
1.1 Principles of aquaculture.
1.2 Rearing facilities.
1.3 The origins of cage culture.
2 CAGE AQUACULTURE - AN OVERVIEW.
2.1 Diversity of cage types.
2.2 Cages and cage aquaculture.
2.3 Cage culture and aquaculture.
2.4 Advantages and disadvantages of cage culture.
3 CAGE DESIGN AND CONSTRUCTION.
3.1 Size, shape and materials.
3.2 Traditional designs.
3.3 Modern designs.
Appendix 3.1 Current force on a single panel of a net cage (from Løland 1993a).
Appendix 3.2 Example of computation of cage flotation computation.
Appendix3.3 Calculation of the buoyancy of a 3 x 3 x 3 m bamboo cage (see Section 3.3.2).
4 SITE SELECTION.
4.1 Environmental criteria for farmed aquatic species.
4.2 Environmental criteria for cages.
4.3 Site facilities and management.
4.4 Concluding remarks.
5 ENVIRONMENTAL IMPACTS AND ENVIRONMENTAL CAPACITY.
5.1 Resource consumptiion.
5.2 The cage aquaculture process.
5.3 Wastes.
5.4 Modelling environmental capacity.
Appendix 5.1 Example of intensive cage rainbow trout production assessment for a temperate natural lake.
Appendix 5.2 Example of extensive cage tilapia production for a tropical reservoir.
Appendix 5.3 Example of semi‑intensive cage tilapia production assessment for a tropical lake.
6 MANAGEMENT.
6.1 Transport and stocking.
6.2 Feeds and feeding.
6.3 Routine management.
7 PROBLEMS.
7.1 Currents.
7.2 Disease.
7.3 Drifting objects.
7.4 Fouling.
7.5 Oxygen.
7.6 Security.
7.7 Predators and scavengers.
7.8 Wastes.
7.9 Weather and climate.
Appendix 7.1 Example of calculation for aeration system design for freshwater rainbow trout cage.
References.
Index.
Reviews
"This is the third edition of a book first published seven years ago. The book and cage aquaculture have come a long way in that time.
Doctor Beveridge's book is quite simply the key text book for the fast growing cage aquaculture industry. The latest edition describes all the most recent developments in this increasingly important and very fast developing sector of the marine industry"
Review appeared in:
Ausmarine (incorporating Professional Fisherman)
,and
Fishing Boat World, both 2006
"This review of fish culture in cages thoroughly discusses water-based systems of aquaculture. The author characterizes and elaborates advantages and disadvantages relative to land-based systems such as ponds and raceways... The book is logically organized and clearly written."
Journal of Environmental Quality, 2006
Features
* the established reference text on the subject
* comprehensive coverage of a major segment of the aquaculture industry
* author well known and respected internationally
* fully updated, expanded and revised