Calculus for The Life Sciences 1e Binder Ready Version + WileyPLUS Registration Card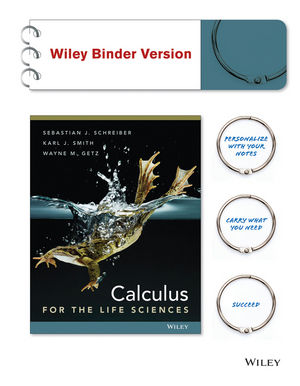 Calculus for The Life Sciences 1e Binder Ready Version + WileyPLUS Registration Card
ISBN: 978-1-118-86614-6
Oct 2013
Product not available for purchase
Description
This package includes a three-hole punched, loose-leaf edition of ISBN 9781118180662 and a registration code for the WileyPLUS course associated with the text. Before you purchase, check with your instructor or review your course syllabus to ensure that your instructor requires WileyPLUS.
For customer technical support, please visit http://www.wileyplus.com/support. WileyPLUS registration cards are only included with new products. Used and rental products may not include WileyPLUS registration cards.
In this much anticipated first edition, the authors present the basic canons of first-year calculus, but motivated through real biological problems. The two main goals of the text are to provide students with a thorough grounding in calculus concepts and applications, analytical techniques, and numerical methods and to have students understand how, when, and why calculus can be used to model biological phenomena. Both students and instructors will find the book to be a gateway to the exciting interface of mathematics and biology.