California School of Professional Psychology Handbook of Juvenile Forensic Psychology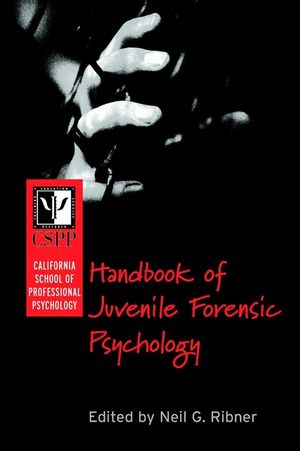 California School of Professional Psychology Handbook of Juvenile Forensic Psychology
ISBN: 978-0-787-96778-9 February 2003 Jossey-Bass 704 Pages
Description
The Handbook of Juvenile Forensic Psychology is a comprehensive handbook for mental health professionals working with juveniles in the criminal justice system and in family and dependency courts. Written by a panel of experts in the field, the book focuses on the proactive prevention, accurate evaluation, and progressive treatment for delinquent juveniles and for juveniles caught in the web of a contentious divorce or in the foster care system.
Table of contents
Preface.

Part I: JUVENILES IN THE JUSTICE SYSTEM.

1. Statistics and Trends in Juvenile Justice and Forensic Psychology (C. Draven Godwin, M.Ed. & Jeffrey L. Helms, Psy.D.).

2. Juveniles in Gangs (Saul Levine, M.D. & George Montoya, M.F.T.).

3. Police and Juveniles: A Complicated Relationship (Jeffrey L, Helms, Psy.D., Bruce A. Arrigo, Ph.D. & Cynthia A. Hirbour, M.A.).

4. Problematic Confessions in Children & Adolescents (Amanda Ruiz, M.D.).

5. Juveniles Tried as Adults (Suzanne M. Dupee, M.D.).

Part II: UNDERSTANDING INCARCERATED JUVENILES.

6. Social Development in Children and Adolescents (Kristine Brady, Ph.D.).

7. Conduct Disorder or Disordered Conduct? (Ansar Haroun, M.D.).

8. The Use and Misuse of PTSD Diagnosis in Juvenile Forensic Settings (Mohan Nair, M.D.).

9. Psychosis in Juvenile Offenders (Suzanne M. Dupee, M.D.).

10. Neuropsychiatric Vulnerabilities in Serious Juvenile Offenders (Mohan Nair, M.D.).

11. Children Who Kill (Nancy Kaser-Boyd, Ph.D.).

12. The Classroom Avenger (James McGee, M.D. & Caren R. DeBernardo, Psy.D.).

Part III: ASSESSING JUVENILES IN THE JUSTICE SYSTEM.

13. Multicultural Issues in the Assessment and Treatment of Juveniles (Deborah Kawahara, Ph.D.).

14. Evaluating Juvenile Competency to Waive Miranda Rights (Jeffrey L. Helms, Psy.D. & C. Draven Godwin, M.Ed.).

15. Assessing Psychopathy in Juveniles: Clinical and Forensic Applications (James Loving, Psy.D. & Carl Gacono, Ph.D.).

16. Violence Risk Assessment of Youth (C. Draven Godwin, M.Ed. & Jeffrey L. Helms, Psy.D.).

17. Juvenile Sex Offenders: Assessment and Treatment (Alan R. Flitton, Psy.D. & Robert C. Brager, Psy.D.).

Part IV: TREATING JUVENILES IN THE JUSTICE SYSTEM.

18. Treatment in Institutions: Mental Health Needs Of Incarcerated Youth (Jeanne J. Johnson, M.S. & Jeffrey Helms, Psy.D.).

19. The Role of the Psychiatrist with Incarcerated Youth: Psychiatric Medication Management (Ernest Giraldi, M.D. & Martin Greenberg, M.D.).

20. Confining and Curing the Juvenile Offender (Lynette D. Rivers, Ph.D., Lisa Backer, Ph.D. & Bruce J. Klier, Ph.D.).

21. Role of the School Psychologist in Juvenile Forensics (Robert Metcalf, Ph.D.).

22. Preparing Children for Court (Martha J. Finnegan, MSW & Shayna Gothard, Ph.D.).

Part V: JUVENILES IN FAMILY COURT.

23. Reciprocal Connectedness and the Limitations of Attachment Theory in the Family and Juvenile Dependency Courts (David E. Arredondo, M.D. & Leonard P. Edwards, Judge).

24. Roles Psychologists Play in Child Custody Disputes (Russell S. Gold, Ph.D.).

25. Evaluating Juveniles in Custody Disputes (Christine Lawson, Ph.D., Corinne Hickson, Ph.D. & Laura Dorin, Ph.D.).

Part V: JUVENILES IN DEPENDENCY COURT.

26. The Juvenile Dependency Process: The Importance Of Understanding Legal Issues and Mandates (Michelle Neumann-Ribner, J.D., L.C.S.W. & Gary C. Seiser, J.D.).

27. Juvenile Court and Dependency: Guidelines and Roles for Psychologists (Alan Lincoln, Ph.D. & Kathy Lincoln, Esq.).

28. The Psychologist as Consultant in the Child Welfare System (Gloria Isaacs-Giraldi, Ph.D.).

29. Keeping High-Risk Youth From Becoming Incarcerated Adults (Jill Atkinson, Ph.D. & Tamara Young, M.A.).

The Editor.

The Contributors.

Name Index.

Subject Index.
Reviews
"This new reference provides comprehensive information on a wide variety of issues for juvenile justice and mental health professionals..." (Juvenile and Family Court Journal, Winter 2003)