Call Centers For Dummies, 2nd Edition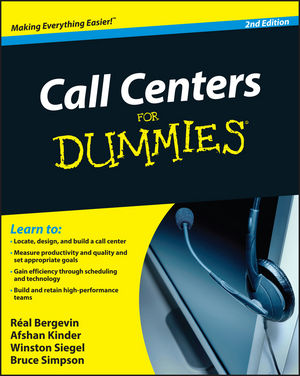 Call Centers For Dummies, 2nd Edition
ISBN: 978-0-470-67840-4 May 2010 384 Pages
Description
Tips on making your call center a genuine profit center
In North America, call centers are a $13 billion business, employing 4 million people. For managers in charge of a call center operation, this practical, user-friendly guide outlines how to improve results measurably, following its principles of revenue generation, efficiency, and customer satisfaction. In addition, this new edition addresses many industry changes, such as the new technology that's transforming today's call center and the location-neutral call center. It also helps readers determine whether it's cost-efficient to outsource operations and looks at the changing role and requirements of agents.
The ultimate call center guide, now revised and updated
The authors have helped over 60 companies improve the efficiency and effectiveness of their call center operations
Offers comprehensive guidance for call centers of all sizes, from 20-person operations to multinational businesses
With the latest edition of Call Centers For Dummies, managers will have an improved arsenal of techniques to boost their center's bottom line.
Table of contents
Introduction.
Part I: From the Ground Up: An Overview of the Call Center.
Chapter 1: A First Look at Call Centers.
Chapter 2: Business Basics: Models and Drivers and Goals, Oh My!
Chapter 3: Developing the Cast of Characters.
Chapter 4: Building a Call Center of Your Own.
Chapter 5: Choosing the Outsourcing Option.
Part II: The Master Plan: Finance, Analysis, and Resource Management.
Chapter 6: Analyze This!
Chapter 7: Right People, Right Place, Right Time: Resource Management.
Chapter 8: Call Center Scheduling: Not As Simple As 1, 2, 3.
Part III: Making Life Better with Technology.
Chapter 9: An Introduction to Call Center Technology.
Chapter 10: Technological Enhancements: Getting the Newest and Coolest Stuff.
Chapter 11: Using Home Agents.
Part IV: Creating High-Performance Teams.
Chapter 12: Hiring and Training.
Chapter 13: Creating a Coaching Culture.
Chapter 14: Creating a Motivated Workforce.
Part V: Ensuring Continuous Improvement.
Chapter 15: The Power of Process Improvement.
Chapter 16: Mastering Change in Your Organization.
Chapter 17: Quality-Control Programs and Certifi cations.
Part VI: The Part of Tens.
Chapter 18: Ten Ways to Improve Agents' Job Satisfaction.
Chapter 19: Ten Questions Every Call Center Manager Should Answer.
Chapter 20: Almost Ten Ways to Decrease Call Center Costs
and Increase Effi ciency.
Appendix A: Key Call Center Definitions and Concepts.
Appendix B: Call Center Support Services.
Index.