Calligraphy For Dummies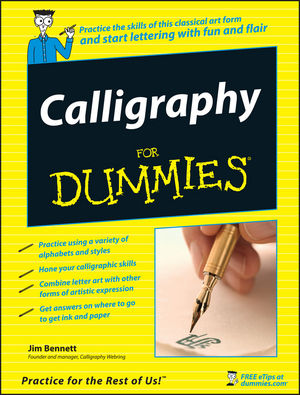 Calligraphy For Dummies
ISBN: 978-1-118-05129-0 February 2011 336 Pages
Description
You've always admired beautiful calligraphy, but you probably figured it was way too hard to master, right ?   Calligraphy is actually much easier than you ever dreamed. All you need is the right guide and you'll be up to speed in no time!
Calligraphy For Dummies lets anyone discover the art and fun of lettering. With this hands-on guide, you'll be able to develop your craft and test it out in no time. Starting with the italic alphabet, you'll discover different types of strokes, how to angle your pen, and how to join letters. This easy-to-follow, step-by-step guide shows you:
All the tools you need to practice the craft
Where to get the proper ink and paper
How to master several alphabets
Different variations to change the look of letters
How to mix and match your alphabets
How to create a poster, sign, or certificate
Ways to design and letter a quotation
Common mistakes that can easily be avoided
Calligraphy For Dummies also provides tips on how to put your calligraphy skills to good use, with ideas for making money, adding flair to wedding invitations, and more! It also includes ten fun alphabets and practice pages to hone in on your talent, as well as examples of poorly formed letters to keep you on track. With a little practice, you'll be creating stunning letters and experiencing the joys of writing calligraphy!
Table of contents
Introduction.
Part I: Yes, You Can Do Calligraphy!
Chapter 1: Doing Calligraphy Can Be as Easy as ABC.
Chapter 2: Peeking Inside the Calligrapher's Toolbox.
Chapter 3: Putting Your Pen to Paper.
Part II: The Amazing, Incredible Italic Alphabet.
Chapter 4: Taking a Few Baby Steps with Italic.
Chapter 5: Doing Italic with a Calligraphy Pen.
Chapter 6: Perfecting the Italic Alphabet.
Chapter 7: Turning Up the "Wow! Factor" with Variations and Embellishments.
Part III: Expanding Your Repertoire.
Chapter 8: The Blackletter Alphabet.
Chapter 9: Classical Roman Letters.
Chapter 10: Formal Manuscript, Foundational Hand, or Bookhand.
Chapter 11: Formal Uncial and Funky Variations.
Chapter 12: Elegantly Outlined and Decorated Letters.
Chapter 13: A Fancy Document Script.
Part IV: Popular Projects.
Chapter 14: Designing and Lettering a Quotation.
Chapter 15: Creating a Poster or Sign.
Chapter 16: Certificates.
Chapter 17: More Things to Do with Your Calligraphy.
Part V: The Part of Tens.
Chapter 18: Ten Ways to Use Your Calligraphy for Weddings.
Chapter 19: Ten Fun Alphabets.
Chapter 20: Ten Tips for Making Money Using Your Calligraphy.
Appendix: Practice Pages.
Index.