Camping For Dummies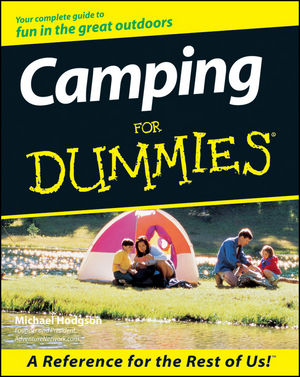 Camping For Dummies
ISBN: 978-1-118-06923-3 April 2011 384 Pages
Description
You love the great outdoors, but you're not always sure the great outdoors loves you. You can pitch a tent, start a campfire, build furniture by lashing tree branches together – in theory anyway! But while you may not have gotten your Girl Scout Gold Award, or your Eagle Scout with cluster, you can still enjoy a night out under the stars with those near and dear to you, or even work towards becoming a more serious outdoorsman, right?

Sure as a bear lives in the woods, Camping for Dummies shows you how to get out there and enjoy the best Mother Nature has to offer. With the helpful advice this common sense guide provides, you'll be prepared when it comes to:
Destination
Gear
Shelter
Clothing
Food
Weather
Safety
Written by journalist Michael Hodgson, veteran of Utah's Eco-Challenge and numerous other outdoor adventures, Camping for Dummies cuts out gear-head jargon and antiquated methods to give you, plain and simple, what you need to know to make the smart choices that lead to great adventures. You'll find out:
How to tie a bear bag
The delicious caveman style for cooking fresh fish
The limitations of GPS
How to predict the weather by observing birds, frogs, and insects
Ten survival essentials
How to go canoe, kayak, or bicycle camping
What features make a good backpack, boot, and other equipment
When and how to bring along children
Whether the dictionary definition of "tenderfoot" has your picture next to it or you already consider wilderness your home away from home, you'll appreciate this handy, concise reference. Full of illustrations, diagrams, and directions for finding additional camping resources, Camping for Dummies is your complete ticket to America's great outdoors.
Introduction.

PART I: Planning Your Escape.

Chapter 1: What to Do and Where to Go.

Chapter 2: Outdoor Gear and Gadgets.

Chapter 3: Dress for Success.

Chapter 4: Wintering, Paddling, Biking.

PART II: Getting There Is Half the Fun.

Chapter 5: Hitting the Road.

Chapter 6: Setting Up Camp.

PART III: Camping Skills, Food, and Fun.

Chapter 7: Skilling Up at Camp.

Chapter 8: Cooking and Eating in the Wild.

Chapter 9: Taking a Hike.

Chapter 10: Fun, Games, and Photo-Ops.

PART IV: Staying Safe, Staying Found.

Chapter 11: Staying Found Simply.

Chapter 12: Weathering the Outdoors.

Chapter 13: Health and Safety Are No Accident.

PART V: The Part of Tens.

Chapter 14: Ten + One Survival Essentials.

Chapter 15: Ten Low-Impact Camping Tips.

Chapter 16: Ten Camping Recipes.

Chapter 17: Ten or So Camping Resources.

Chapter 18: Ten Best Outdoor Destinations.

Chapter 19: Ten Times Two: Hodgson's Twenty Laws of Camping.

PART VI: Appendixes.

Appendix A: Understanding the Outdoor Lingo.

Appendix B: Before You Leave Home: Countdown Checklist.

Appendix C: Connections.

Index.

Book Registration Information.