Can Journalism Survive?: An Inside Look at American Newsrooms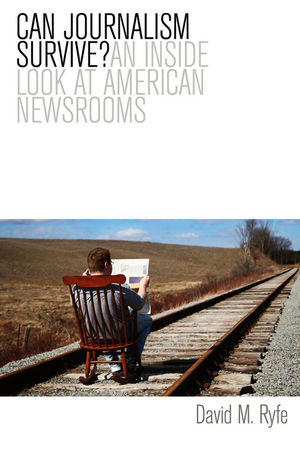 Can Journalism Survive?: An Inside Look at American Newsrooms
ISBN: 978-0-745-65428-7 October 2012 Polity 256 Pages
Description
Journalists have failed to respond adequately to the challenge of the Internet, with far-reaching consequences for the future of journalism and democracy. This is the compelling argument set forth in this timely new text, drawing on the most extensive ethnographic fieldwork in American newsrooms since the 1970s.
David Ryfe argues that journalists are unable or unwilling to innovate for a variety of reasons: in part because habits are sticky and difficult to dislodge; in part because of their strategic calculation that the cost of change far exceeds its benefit; and in part because basic definitions of what journalism is, and what it is for, anchor journalism to tradition even when journalists prefer to change. The result is that journalism is unraveling as an integrated social field; it may never again be a separate and separable activity from the broader practice of producing news. One thing is certain: whatever happens next, it will have dramatic consequences for the role journalism plays in democratic society and perhaps will transform its basic meaning and purpose.
Can Journalism Survive? is essential and provocative reading for all concerned with the future of journalism and society.
Table of contents
Detailed Contents vi
List of Figures viii
Preface ix
Acknowledgments xiii
Introduction 1
1 Backstory 29
2 Habits 56
3 Investments 84
4 Defi nitions 114
5 The Future 138
6 Worries 167
Conclusion 195
Notes 199
References 202
Index 217
Reviews
"One of the finest and more in-depth portrayals of the struggle of newspapers to reinvent themselves."
Digital Journalism

"Ryfe offers compelling evidence that the success of new forms of public interaction - social media, blogs, crowdsourcing, data mining, etc - can, and are, mobilising local communities in the interests of greater transparency and accountability. He identifies a key role for journalists in this process: "Crowds need people who can catalyze the community, organize its work in granular form and put the pieces together when finished." And although he accepts that there are some journalists, maybe the majority, who will find it difficult to accept this new gatekeeping role, he is adamant: this is the future, whether they like it or not."
Times Higher Education

"This is a book which demands attention within the media industry and with all those interested in the development of society in a changing social era."
Orange Standard
"For all our academic debates about what journalism should do to survive in the digital age, David Ryfe has done the invaluable research needed to have this discussion in the first place: he looked at what journalists do to make it work, and why."
Mark Deuze, Indiana University
"David Ryfe has written an accessible and thoughtful book about US press journalism as it faces the drawn-out challenge of finding new business models in the face of the digital revolution. With its first-person style and lively ethnographic detail, it is written to appeal to a new generation of students facing many professional uncertainties."
Philip Schlesinger, University of Glasgow
"'There will always be newspapers,' journalists told David Ryfe a half dozen years ago. Now they are not so sure what that could possibly mean, as Ryfe shows in this study of a profession in crisis. A masterful portrait of three different newsrooms close-up, warts and all, this is an original, readable, and important work."
Michael Schudson, Columbia University
Features
Major new study of the impact of digitalization on journalism.
Based on in depth ethnographic research in a range of newsrooms in North America.
Presents a compelling case that journalists have failed to respond to the changing news environment and considers the reasons for this inertia.
Fills a huge gap for a book on the contemporary news media based on research and not just speculation.