Can Science End War?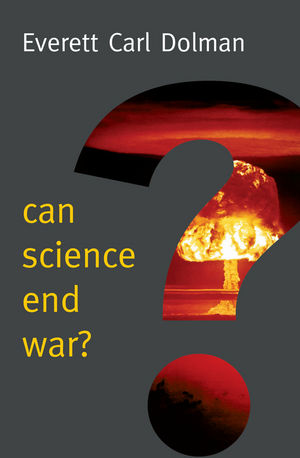 Can Science End War?
ISBN: 978-0-745-69819-9
Dec 2015, Polity
200 pages
Description
Free-roaming killer drones stalk the battlespace looking for organic targets. Human combatants are programmed to feel no pain. Highpower microwave beams detonate munitions, jam communications, and cook internal organs.

Is this vision of future war possible, or even inevitable? In this timely new book, Everett Carl Dolman examines the relationship between science and war. Historically, science has played an important role in ending wars – think of the part played by tanks in breaching trench warfare in the First World War, or atom bombs in hastening the Japanese surrender in the Second World War – but to date this has only increased the danger and destructiveness of future conflicts. Could science ever create the con-ditions of a permanent peace, either by making wars impossible to win, or so horrific that no one would ever fight? Ultimately, Dolman argues that science cannot, on its own, end war without also ending what it means to be human.
Preface: Be Careful What You Look For page vi
1 Can Science End War? 1
2 Is War Good for Science? 26
3 Can Scientists End War? 50
4 Can Science Limit War? 77
5 What Will Tomorrow's War Look Like? 106
6 What Will End War? 138
Epilogue 168
Bibliography 174
Index 181
"A clearly written and well-paced investigation into the character and nature of war, and the role of science and scientists in determining both. There are fascinating insights into 3D guns, non-lethal weapons and the author's speciality, space-based systems. Bridging the worlds of scholarship and military practice, Dolman is uniquely qualified to comment on the science/war nexus and how all this impacts on the 'real world'."
Christopher Coker, London School of Economics

"Can Science End War? illustrates the changing nature of technology and human conflict with vivid analysis of war fought from ancient history to today, and a terrifying view of how modern science could influence future outbreaks of violence. Current events such as the proliferation of nuclear weapons, access to space, and new operations in the cyber environment demand that we understand and confront the questions Dolman puts before us. Our political, military, and scientific communities need to consider the challenges he poses if we are to accurately navigate the path to peace in this rapidly changing world; for, after all, ignorance is the reason all wars are lost."
General Charles A. Horner, former USAF Four-Star General and Commander in Chief of the North American Aerospace Defense Command and U.S. Space Command

"At a time when many seem determined to seek simple technological solutions to the complex political and human problem of future armed conflict, Dolman's perspective may help to correct unwise thinking about defence and international security."
Survival: Global Politics and Strategy