Can You Trust Your Trust: What Your Family Needs to Know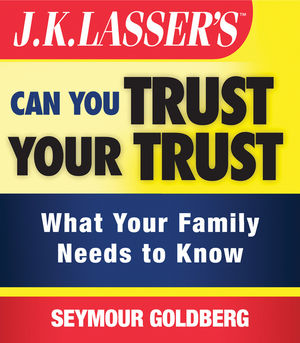 Can You Trust Your Trust: What Your Family Needs to Know
ISBN: 978-0-470-50955-5
Mar 2009
Product not available for purchase
Description
Trusts are a very common way to protect estate assets and direct the distribution of estate moneys. What is often not considered in the creation of a trust is the duties that befall on the trustee. Often, creators of trusts ask friends and family to be a trustee and those who are asked, must read this book. Though often considered an honor, there are significant headaches that go along with being a trustee ? not to mention the potential for being the target of litigation.

 Can You Trust Your Trust is also a great primer for CPAs and attorneys who may find themselves dealing with a client who is a trustee.
Can You Trust Your Trust?
Trustee Headaches in General.
Changing Laws.
Trustee Headaches and State Trust Laws.
What You Should Know about Trusts.
Liability Issues.
Conflicts of Interest.
What's the Big Deal about Trusts and Trust Administration.
Why Trusts Are Difficult to Administer.
Multiple Trustees.
Rights of Trustees.
Duties of Trustees.
Duty to Inform and Report.
Remedies for Breach of Trust.
Statute of Limitations.
Other States Adopting Versions of the Uniform Trust Code.
Uniform State Laws.
Estate Tax Issues.
Fiduciary Income Tax Returns.
Unitrust.