Canadian Managerial Accounting Cases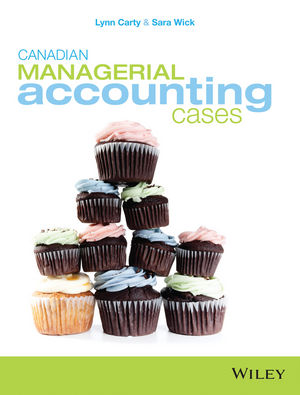 Canadian Managerial Accounting Cases
ISBN: 978-1-118-75723-9
Aug 2014
80 pages
Product not available for purchase
Description
Managerial accounting gives managers the information they need to make decisions for the future. That's why managerial accounting and cases are a perfect fit because both focus on future decision-making. While textbooks explain concepts and allow students to master problems, cases go above and beyond. Cases challenge students to critically examine the facts, analyze alternatives from a quantitative and qualitative perspective, and make recommendations.
Canadian Managerial Accounting Cases presents cases on a variety of topics at either an introductory or intermediate level of difficulty. There is at least one case on each topic in a typical managerial accounting textbook so that instructors can use the case method throughout their course.
Cases are a great way to support learner-centered teaching. Classes become a forum for instructors and students to go beyond lectures and problems by discussing and analyzing the case together. Detailed teaching notes help instructors plan their lessons and facilitate in-class discussions. Students are given a framework for analyzing managerial accounting cases, similar to the framework used in the professional accounting exams, as well as questions to help them in their case analysis. These questions vary in the level of detail so students can grow their case analysis skills.
Students learning managerial accounting with cases can see how managerial accounting is used in organizations. They'll gain experience in examining the facts, analyzing alternatives, and making decisions—all valuable skills no matter where students' career paths take them.
Corporate Governance
Cost Classifications
Job-Order Costing
Process Costing
Activity-Based Costing
Techniques for Measuring Fixed and Variable Costs
Cost-Volume-Profit
Variable Costing
Budgeting
Variances
Performance Measurement
Relevant Costs
Capital Budgeting