Canadian Wine for Dummies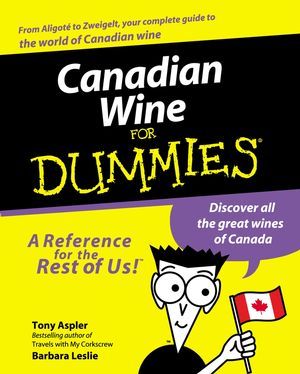 Canadian Wine for Dummies
ISBN: 978-0-470-67674-5 August 2009 384 Pages
Download Product Flyer
Download Product Flyer
Download Product Flyer is to download PDF in new tab. This is a dummy description. Download Product Flyer is to download PDF in new tab. This is a dummy description. Download Product Flyer is to download PDF in new tab. This is a dummy description. Download Product Flyer is to download PDF in new tab. This is a dummy description.
Description
How can the same grapes make two different wines? Can you tell what a wine tastes like by reading the label? By understanding wine, you can drink better wine. In grocery stores, liquor stores, and at the vineyard, the key to picking a tasty wine is knowing how the wine was made—not by looking at the price. Even the glass you drink wine out of can enhance the experience. With some basic guidance, being a wine connoisseur is as easy as knowing what you like.
Canadian Wine For Dummies is for everyone from beginning wine drinkers who need a friendly primer on wine to experienced wine tasters who want a thorough introduction to the diverse variety of wines produced in Canadian. This is the perfect guide if you're interested in:
Entertaining at home
Collecting wine
Cooking with wine
Touring Canadian vineyards
Impressing your friends
Explore all the factors that influence a wine 212;from the soil the grapes grow in to the winemaking process—and understand how to decipher this information from the label. Navigate any restaurant's wine list and order the best tasting and priced bottle. Serve the perfect wine to complement the food your serving. This friendly guide helps you do these things and more:
Introduce your friends to Icewine
Happily marry food and wine at your wedding
Purchase wine online from private shops
Properly taste and describe any wine
Organize wine tastings
Know when to send back a bottle of wine
Tired of relying on other people's wine choices? Want to discover a vast country of delicious wines? There are many, many reasons to explore the world of Canadian wines. No matter what the reason, the experience you take away from delving into the savory world of Canadian wines will make itself useful the rest of your life.
Table of contents
Introduction

How to Use This Book
Part I: What Is Wine?
Part II: Appreciating Wine
Part III: Enjoying Wine
Part IV: Wine and Food
Part V: Wineries across Canada
Part VI: The Part of Tens
Part VII: Appendixes
Icons Used in This Book
Part I: What Is Wine?
Chapter 1: What Makes a Wine
Understanding What Wine Is
Winemaking Basics
The importance of air
The grape's goodness
A fascination for thousands of years
A widespread appeal
An astonishing array of colours and sizes
A knockout combination: Sugar and acid
Setting the Standards
Canada's designated viticultural areas
VQA regulations
Chapter 2: Wine in Its Elements

Breaking It Down: Wine's Key Ingredients
Where's the fruit?
What's so good about acid?
What's the degree of alcohol?
What use are tannins?
What's this fifth element of wine?
Deciphering a Canadian Wine Label
Chapter 3: Getting to Know Your Berry
Looking Closely at the Grape
Life Preservers for Wine: Tannins to the Rescue!
Contrasting Reds and Whites
Macerating makes the difference
White wines don't macerate
Drinking red wine in its youth
Exploring the Variety of the Grape World
Labelling for Variety
Chapter 4: In the Vineyard
All Grapes Are Not Created Equal
Where Wine Grapes Grow— And How!
Why vines should struggle
How grapes get sweet
The cool connection
A History of Mediocrity
A Year in a Canadian Vineyard
Weathering the Vintage
Frost warnings
Singing in the sunshine
Crying in the rain
Harsh lessons
The Education Advantage
Part II: Appreciating Wine
Chapter 5: Sensing Good Wine
Visual Basics
Judging colour
Looking at whites
Seeing red
Checking out those legs!
Sending wines back: Five unsightly reasons to do so
Nuancing the Nose
Getting swirling again (it's worth it)
Finding the right partners
Smelling something fishy: Avoiding bad wine days
Bottle stink and other problems
Oxidation
Corkiness
More stinky reasons for sending wines back
Chapter 6: Pleasing Your Palate
Getting to Know Your Tongue
Putting Your Palate to the Test
Comparing whites
That glowing colour
Those revealing legs
The nose knows
The proving of your palate
Comparing reds
Chapter 7: Judging the Good, the Bad, and the Ugly
Describing How Wines Taste
Scoring Wine by Number
Your basic tasting sheet
The write words
Appearance
Bouquet
Taste
Chapter 8: Sharing Good Taste
Organizing a Tasting
Striking the right mood
Setting the scene
Tasting in Private
Intimate encounters
Crowd scenes
Dinner parties
Tasting in Public
Cruising the best wines
Getting the right answers
Part III: Enjoying Wine
Chapter 9: Wine in Restaurants
Getting to Know the House Wine
Reading a Wine List
Pick the perfect wine
Remember weight and acidity
Weight
Acidity
Consider how it's cooked
Ordering Wine
Sending Wine Back
Real-Life Wine Experiences
The wrong way
The right way
Wines for Vegetarians
White Wine as an Aperitif
Chapter 10: At Home with Wine
Wine Buyer Beware
Bringing Home the Wine
Handling reds
Handling whites and roses
Cork Procedures
Choosing a corkscrew
Uncorking the bottle
After you've opened the bottle
To air is divine
What a Difference a Glass Makes
A glass for red
A glass for white
A glass for champagne and sparkling wine
Chapter 11: Buying for Keeping
Storing Your Wines
Choosing the Best Cellar Site
No basement? No worries!
Setting up your cellar
Cataloguing Your Wines
Collecting a Canadian Cellar
24 bottles of wine on your wall
Preparing for future consumption
Buying Wine in Canada
The liquor monopolies
Catalogue shopping
Private orders
Personal importation
Privatized wine shops
Auctions
Independent wine stores
The Internet
Purchasing wine on-line from Ontario wineries
Purchasing wine on-line from B.C. wineries
Purchasing wine on-line from wine agents
Purchasing wine on-line from your provincial liquor board
Part IV: Wine and Food
Chapter 12: The Marriage of Wine and Food
Planning a Wine and Food Wedding
Grape Expectations
Chardonnay
Chenin Blanc
Gewurztraminer
Icewine
Muscat
Pinot Blanc
Pinot Gris
Riesling
Sauvignon Blanc
Cabernet Franc
Cabernet Sauvignon
Gamay
Merlot
Nebbiolo
Pinot Noir
Sangiovese
Syrah/Shiraz
Tempranillo
Zinfandel
Don't Forget the Fortifieds
Sherry: Any Palomino is a pal of mine
Port: Overturning the tradition
Ruby ports (bottle-aged)
Tawny ports (cask-aged)
Chapter 13: Wine and Cheese
The Perfect Match
Types of cheese
How cheese is made
Classifying Cheeses
Matching Canadian Wines and Cheeses
Matching International Wines and Cheeses
Chapter 14: Planning Your Wine Matches
Zeroing In On the Right Wine
Asking Two Easy Questions
Matching Dish by Dish
Matching wine and soup
Matching wine and fish
Matching wine and beef
Matching wine and pork
Matching wine and lamb
Life Is Short: Start with Dessert
Facing Up to the Big No-No: Wine and Chocolate
What about Nuts?
Chapter 15: Cooking with Wine
Why Cook with Wine?
What Wine to Use in the Kitchen
Where to start
How much wine to use
Going Back to (Cooking) School
The Wine Country Cooking School at Strewn
The Cooking School at Hainle Vineyards
Chapter 16: Icewine: Canada's Icing on the Cake
What Exactly Is Icewine?
Where Icewine comes from
How Icewine is made
Canadian Content: Icewine in Canada
The Vidal grape
The Riesling grape
The parade of awards
Savouring Icewine
Matching Icewine with food
Laying down Icewine
Part V: Wineries across Canada
Chapter 17: The Origins of Canadian Wine
The First 700 Years: 1000 to 1700
Jacques Cartier and the French tradition: 1535
Crossbred resistance and the American influence: 1619
Potential in Ontario: 1800 to 1866
First international recognition
Niagara developments
Ontario's Potential Realized: 1866 to 1900
Temperance in a teacup
The birth of the liquor boards
Post-Prohibition days
A Brights spot during the Depression
Changing styles in the postwar years
The daffy world of Baby Duck
The invasion of the imports
Beginnings in British Columbia: 1920
Tried, tested, and true
An apple a day couldn't keep creditors at bay
Winds of change
With a little help from the legislature
Quebec's Story begins in 1870
Experimentation in Nova Scotia: 1913
Chapter 18: Ontario Wineries
Between a Rock and a Wet Place
Niagara Bench Wineries
Mainly on the Plain
Niagara-on-the-Lake Wineries
Canada's Deep South
Lake Erie North Shore Wineries
Urban Corkfitters
Toronto (GTA) and North of Toronto Wineries
Chapter 19: British Columbia Wineries
North of the Border, Down Okanagan Way
Okanagan Valley Wineries
Over the Hill, Not Too Far Away
Similameen Valley Wineries
A Gentle Style of Wine
Greater Vancouver and Fraser Valley Wineries
New Kids on the Block
Vancouver Island Wineries
Chapter 20: Quebec and Atlantic Province Wineries
Quebec Wineries: And They Said It Couldn't Be Done!
Eastern Townships Wineries
Monteregie Wineries
Quebec City and Other Wineries
Atlantic Province Wineries: Not a Fish Story
Annapolis Valley Wineries
Chapter 21: Fruit Wineries
A Fruity Phenomenon
Which Fruit Where
Ontario Fruit Wineries
British Columbia Fruit Wineries
Nova Scotia Fruit Wineries
Part VI: The Part of Tens
Chapter 22: Ten Frequently Asked Questions About Wine
Where Do I Start If I Want to Get into Wine?
Why Are Some Wines More Deeply Coloured Than Others?
What is a vintage wine?
What Wine Should I Bring to a Dinner Party?
How Can I Tell When Wine Is Ready to Drink?
How Can I Tell When a Wine is "Off"?
How Long Can I Keep a Bottle of Wine after I Opened It?
Why Do I React Badly When I Drink a Certain Wine?
Which Region of Canada Produces the Best Wines?
How Do Canadian Wines Compare to Those of Other Countries?
Chapter 23: Ten Ontario Winemakers to Watch
Marcus Ansems: Creekside Estate Winery and Habitant Vineyards, N.S.
Derek Barnett: Southbrook Farm & Winery
Pierre-Jean Bosc: Chateau des Charmes
Ray Cornell: Hernder Estates Winery
Philip Dowell: Inniskillin Wines
Ron Giesbrecht: Henry of Pelham Family Estate Winery
J-L Groux: Hillebrand Estates Winery
Brian Schmidt: Vineland Estates
Ann Sperling: Malivoire Wine Company
Jim Warren: Daniel Lenko Estate Winery and Nesher Wines
Chapter 24: Ten British Columbia Winemakers to Watch
Olivier Combret: Domaine Combret
Roger Dosman: Alderlea Vineyards
Bill Dyer: Burrowing Owl Vineyards
Ian Mavety: Blue Mountain Vinyard & Cellars
Alex Nichol: Nichol Vineyard & Farm Vintners
Bruce Nicholson: Vincor/Jackson-Triggs Vintners
Sandra Oldfield: Tinhorn Creek
Howard Soon: Calona Vineyards
Frank Supernak: Hester Creek Estate Winery
Erik von Krosigk: Hillside Estate Winery, Pinot Reach Cellars, Red Rooster Winery, Saturna Vineyard
Part VII: Appendixes
Appendix A: Glossary
Appendix B: Directory of Canadian Wineries
Ontario
Niagara Bench wineries
Niagara-on-the-Lake wineries
Lake Erie North Shore wineries
Toronto/GTA wineries
Other areas
British Columbia
Okanagan Valley wineries
Similkameen Valley wineries
Greater Vancouver and Fraser Valley wineries
Vancouver Island wineries
Quebec
Eastern Townships wineries
Monteregie wineries
Quebec City and other wineries
Other Areas
Nova Scotia
Annapolis Valley wineries
Prince Edward Island
Fruit wineries
Ontario
British Columbia
Nova Scotia
Newfoundland
Useful Web sites for more wine information
Appendix C: Coolers Corkscrews
Wine accessories
Wine magazines (English)
Wine magazines (French)
Computer software: Cellar programs
Catalogue shopping for wine
Appendix D: Canadian Highlights of the Vintners Quality Alliance (VQA) National Wine Standard
Mission Statement
Geographical Indications (G.I.)
Provincial areas
Viticultural areas
Vineyard Designation
Estate Bottle Declaration
Wine Categories
Labelling
Varietal wines
Blended wines (proprietary names)
Vintage dating
Foreign geographical indications
Synonyms
Addition of water
Chaptalization
Sweet reserve
Certification process
Label approval
Tasting/evaluation panel— composition
Packaging
VQA label declaration
Maintenance of This Standard
Establishment of New Provincial Authorities
Index