Cancer Diagnostics with DNA Microarrays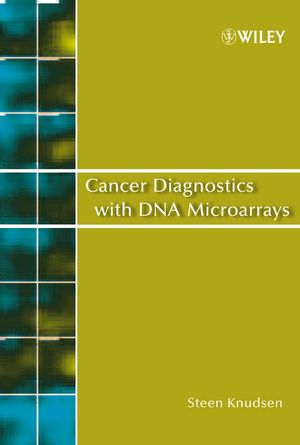 Cancer Diagnostics with DNA Microarrays
ISBN: 978-0-471-78407-4 September 2006 272 Pages
Description
Authored by an international authority in the field,
Cancer Diagnostics with DNA Microarrays
is a complete reference work on the rapidly growing use of DNA microarray data in the diagnosis of and treatment planning for a large number of human cancers.
Uniquely deals with direct clinical application of microarray data to oncology diagnosis, leading to more effective diagnosis of and clearer treatment regimens for a wide range of human cancers
Offers clinicians summary presentation of state-of-the-art science of DNA microarrays
Each chapter includes bibliographic and further reading suggestions
Easily accessible, assuming no special training in statistics or bioinformatics
Replete with examples and mini-cases, Cancer Diagnostics with DNA Microarrays offers cancer researchers in private, pharmacologic, and governmental institutions, biomedical statisticians, and practicing oncologists concise, thoughtfully authored guidance on the use of microarray data and analysis as clinical tools. The text carefully addresses the needs of end users – researchers and physicians – using microarrays as a tool to be applied in common clinical situations, and is of interest for students in medicine and biology and professionals in health care as well.
Cannot be combined with any other offers.
Original Price:$298.90
Purchased together:$224.17
save $74.73
Cannot be combined with any other offers.
Original Price:$443.95
Purchased together:$332.96
save $110.99
Table of contents
Preface.
Acnowldegments.
1. Introduction to DNA Microarray Technology.
2. Image Analysis.
3. Basic Data Analysis.
4. Visualization by Reduction of Dimensionality.
5. Cluster Analysis.
6. Molecular Classifiers for Cancer.
7. Survival Analysis.
8. Meta-Analysis.
9. The Design of Probes.
10. Software Issues and Data Formats.
11. Breast Cancer.
12. Leukemia.
13. Lymphoma.
14. Lung Cancer.
15. Bladder Cancer.
16. Colon Cancer.
17. Ovarian Cancer.
18. Prostate Cancer.
19. Melanoma.
20. Brain Tumors.
21. Organ or Tissue Specific Classification.
22. Sample Collection and Stability.
References.
Index.
Reviews
"…a ground-breaking addition…the best manual presently available on the use of DNA Microarrays in frontline cancer research." (Electric Review, February/March 2007)
Features
First book of its kind to deal with direct clinical application of microarray data to oncology diagnosis, leading to more effective diagnosis of and clearer treatment regimens for a wide range of human cancers 
Offers clinicians summary presentation of state-of-the-art science of DNA microarrays, but this can be skipped over to clinical application content
Addresses the needs of end users — researchers and physicians -- using microarrays as a tool to be applied in common clinical situations 
Accessible without special training in statistics or bioinformatics
Huge number of examples and mini-case studies throughout, illustrating both the scientific and research content as well as the clinical application of microarray data and analysis
Clinical application content presented with all appropriate specifics of diagnosis and treatment for a broad range of cancers
Each chapter includes Bibliographic and Further Reading suggestions